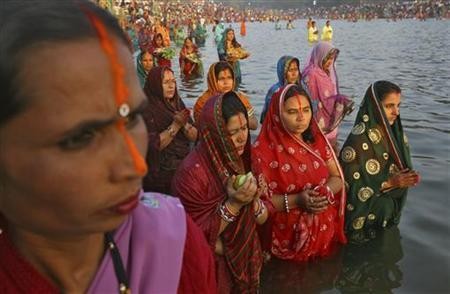 At least 18 people were killed and several others injured in a stampede at Patna's Adalatganj ghat on Monday, reported NDTV.
The incident occurred during the Chhath puja around dusk when devotees were trying to make their way out after offering prayers. The makeshift bridge under which the huge crowds stood collapsed, funnelling many woman and children through it. Out of those killed, ten were children.
The surviving victims were immediately rushed to Patna Medical College Hospital for treatment. Local reports said that over 50 people were injured in the stampeded.
Patna Superintendent of Police Jayant Kant said that the tragedy happened as a result of electrical failure in the ghat, which sent the people running around in confusion and causing a stampede while they rushed towards the bridge.
"The bridge had developed a crack due to which the people were diverted. Because of the diversion there was a lot of confusion and ruckus. Then there was a power cut that led to panic which and caused the stampede," Kant told the news service.
Chief Minister Nitish Kumar expressed grief over the tragedy and ordered a full probe into the case. He also announced ex-gratia of ₹2 lakh to the kin of each victim killed.
Doctors at the hospital were forced to leave after relatives of the injured victims turned violent over lack of proper treatment. The staff later returned after the Principal Secretary (Health) and the Director General of Police intervened.
Following the incident at the hospital, Kumar appealed for calm and urged politicians to avoid turning the tragedy into an issue of controversy. "It is a very sad incident. I will like to appeal to everyone that at this time we should all come together to resolve the crisis," he said.
Monday's incident triggered a strong reaction from the Opposition party, which wasted no time in condemning Nitish Kumar's government over negligence. "It's the government's fault. I have been saying for three days now that proper arrangements have not been made. I've been saying an accident could take place and it has happened," Ram Kripal Yadav of the RJD told IBN Live.
Observed mainly in Bihar, Jharkhand and eastern UP, the Chhath puja is dedicated to Hindu Sun God Surya. The puja is performed, sometime after Diwali, on the sixth day of the Hindu lunar month of "Kartkia". The Adalatganj ghat is situated near the banks of the Ganga river.