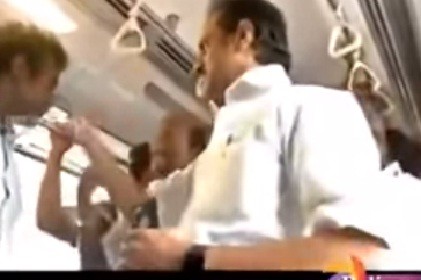 A video showing DMK leader MK Stalin slapping a passenger on board the Chennai metro surfaced on Wednesday, drawing sharp reactions from AIADMK and Tamil Nadu Chief Minister Jayalalithaa.
The short video shows Stalin lightly slapping a man, who is said to be a DMK party cadre, and asking him to move away during a ride on the recently launched Chennai Metro.
Stalin had taken the train ride from Koyambedu to Alandur along with DMK founder Vijayakant and party supporters on Wednesday.
Stalin has defended himself saying that his hand touched the man's face 'by mistake'.
Man was blocking way, stepped on ppl's feet. I ws directing him to an emptier space, didnt mean to slap him: MKStalin pic.twitter.com/5cZLHE3yeT

— ANI (@ANI_news) July 2, 2015
The man was party cadre who accompanied me on the trip. I asked him to move & while waving my hand it touched his face by mistake: MK Stalin — ANI (@ANI_news) July 2, 2015
Stalin also said that Jayalalithaa was trying to divert attention from the fact that she was not present at the launch of the Chennai metro.
Jayalalithaa had flagged of the first phase of Chennai's Metro rail project through video-conference on Monday.
The AIADMK reacted sharply to the video, calling Stalin to 'behave in public'.
The Congress has, however, defended Stalin stating that he was trying to protect a female passenger.
In the video, a woman is seen seated behind the man who was standing close to her, and Stalin slaps him slightly and gestures him to move away.
The video has since gone viral, garnering about 50K views in a day.