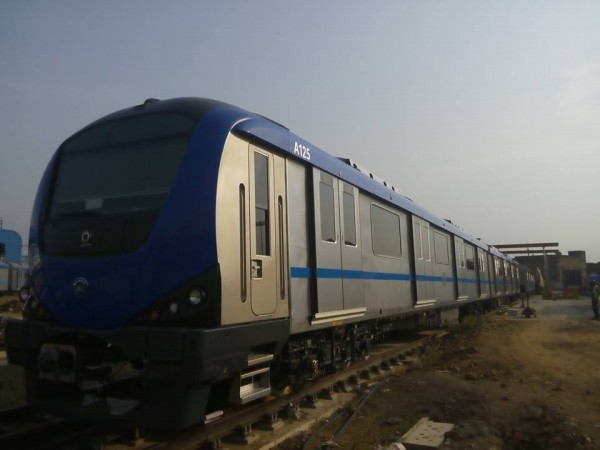 Tamil Nadu Chief Minister J Jayalalithaa inaugurated the first phase of Chennai Metro Rail service through video conferencing from the state secretariat on Monday.
In the first phase, the Metro Rail service will connect Alandur in south Chennai and Koyambedu in the north. Each train having four coaches is expected to cover the one-way distance in 18 minutes, NDTV reports.
The Chennai Metro Rail will cover seven stations on the stretch - Koyambedu, Chennai Mofussil Bus Terminus, Arumbakkam, Vadapalani, Ashok Nagar, Ekkattuthangal and Chennai Metro Rail Limited's depot at Koyambedu.
The first phase of Chennai Metro has two corridoors, one covering the distance between Washermanpet and the airport and the other running between Chennai Central and St Thomas Mount.
The first ride and the thrill
Chennai residents thronged the Alandur station for the first ride on the city metro rail. Many were thrilled about taking their first ride. Some of them shared their first experience on the Metro train on social media.
Chennai metro train first look and we have take first Ticket #metrotrain #chennai #chennaimetro

— Vijayakumar (@iappvk) June 29, 2015
Some more pictures of #ChennaiMetro 1st day 1st ride :) So happy to see a lady driver driving my Metro train pic.twitter.com/jjOcHq6jJP

— Srini Swaminathan (@srini091) June 29, 2015
கோயம்பேடு CMBT மெட்ரோ ரயில் நிலையம்! - படங்கள் #ChennaiMetro #MetroRail #Chennai #Vikatan pic.twitter.com/yaFuZ7LlMx

— iamKarthi Karan (@karthi118kk) June 29, 2015
From the inaugural run of #Chennai #Metro pic.twitter.com/1hsH4yefyk

— Venkatakrishnan (@carvk) June 29, 2015