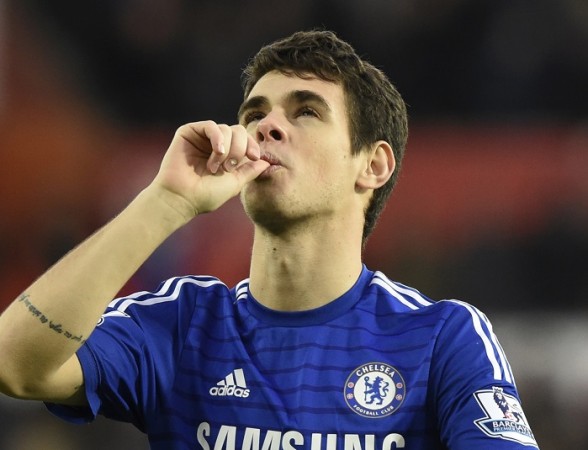 Chelsea, with a very strong squad, are on track to win the Barclays English Premier League (EPL) once again this season. However, Brazilian attacking-midfielder Oscar may face the axed. It is being reported that he is being considered for a swap deal with Italian giants Juventus' Paul Pogba.
Chelsea boss Jose Mourinho is looking to strengthen his midfield options for the next season and has been eyeing Pogba for a long time now. Pogba might cost them a 100 million euros, but it seems that the purse will not be a cause of concern as the other English clubs are also looking to grab big names in the summer transfer window, Goal.com reported earlier on Friday.
When Oscar was signed by Chelsea, there was a sense of excitement even as fans were skeptical as to how he would perform at The Stamford bridge. The Brazilian, however, did not disappoint them. In fact, it was because of Oscar that Mourinho was forced to sell Juan Mata to Manchester United.
Oscar is a naturally attacking player and has been responsible for many match-winning performances. His ability to build up an attack out of nowhere was his USP, but unfortunately he has not been performing to his standard this season and Mourinho chose to keep him at the bench. His flair and pace cannot be questioned, but his consistency has let him down. He started the season brilliantly, but eventually failed to deliver in crucial games. Chelsea fans would be sad to bid adieu to this young and talented midfielder, however, but if they are getting a good amount for him it wouldn't be a bad deal. Juventus and PSG are already showing great interest in him.