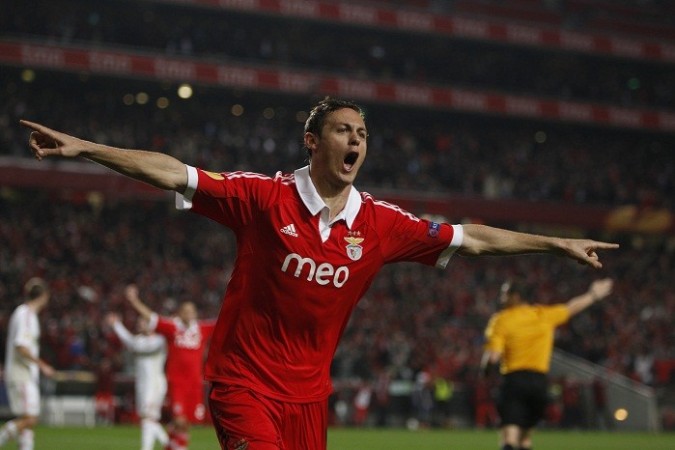 Chelsea are just a couple of steps away from clinching the signature of Nemanja Matic after the midfielder confirmed his departure from Benfica.
The Serbian international has been linked with a move back to Stamford Bridge for a while, and now it looks like a foregone conclusion after Matic was quoted as saying his goodbyes to the Portuguese club.
"The game against FC Porto was my last game for Benfica," Matic told A Bola. "I want to thank everyone at the club and all the fans. Benfica will forever be in my heart.
"I played here for two-and-a-half years, and gave my best at every training session, and now it is the right moment for me to leave.
"I want to improve, I want to play in a better league and I want to go to Chelsea, a club I also love.
Matic revealed it was his decision to leave Benfica in the January transfer window, confirming the side had made all efforts possible to convince him to remain in Portugal.
"I would also like to thank Benfica's president, he did everything he could to keep me, but I wanted to leave.
"I respect the effort made to keep me at the club, everyone at Benfica has been very good to me and made me very happy. I insisted on leaving because I think this is the right moment."
Matic, who was one of the nominees for the FIFA Puskas Award, was used as a makeweight which brought David Luiz to Chelsea from Benfica in 2011, but the 25-year-old has grown from strength to strength since then.
Chelsea are expected to pay around £22 million for the midfielder's services, a considerably large amount considering the fact that Matic left for Benfica for next to nothing - although the amount is well below the player's buyout clause.
The Blues are hoping to seal the transfer as soon as possible, preferably before the crunch English Premier League clash against Manchester United on Sunday.
Some reports suggest players could be used as part exchange in the deal, with Matic's arrival also expected to be the Blues' only major signing for January.