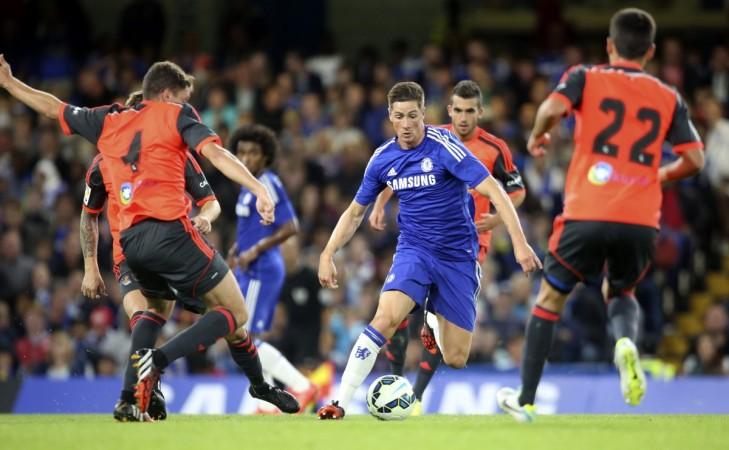 AC Milan are reportedly lining up a bid for Chelsea striker Fernando Torres, despite manager Jose Mourinho insisting that the Spaniard will not be sold this summer.
The 30-year-old, who has not been able to impress since his £50 million arrival from Liverpool in January 2011, has become Chelsea's third-choice striker after the arrivals of Diego Costa (Atletico Madrid) and Didier Drogba (free agent) this summer.
While the former Liverpool star was an unused substitute in the 3-1 victory over Burnley in the club's opening Premier League fixture on Monday, he did not even feature on the bench against Leicester City on Saturday.
With new signing Costa grabbing the limelight by scoring two goals in two games, Torres' chances of re-establishing his place in the team looks very bleak.
Milan, according to the Independent, are now reportedly interested in securing the Atletico product's signature as they look for someone to replace the departing Mario Balotelli, who is very close to sealing a £16 million move to Liverpool.
The Rossoneri, who are looking to turn things around following their disappointing eighth place finish in the Serie A last season, were earlier looking to sign Porto's Jackson Martinez. But after the Portuguese side remained firm in their decision to keep the Colombian, they have been forced to look at alternatives.
Although Torres has not been in the greatest of forms in recent years, the Italian club is hopeful that they will be able to bring out the best in the Spaniard.
Samuel Eto'o, who is currently a free agent after being released by Chelsea this summer, is another option for Milan but they will probably opt for Torres as he is younger than the Cameroonian.
Meanwhile, Chelsea boss Mourinho insists he requires three strikers at Stamford Bridge this season.
"I want three strikers in the team," Mourinho told reporters after Chelsea 2-0 win over Leicester City. "Sometimes I want to play with two and have one on the bench. Other times somebody will be injured, somebody will be suspended."
Earlier, there were speculations that the Blues are willing to offer Torres to Roma, in a player plus cash deal for promising young striker Mattia Destro.
But Mourinho claims the Blues squad is now balanced and the Spaniard will not leave Stamford Bridge this summer.
"Our squad was made carefully, with great balance. I believe he [Torres] will stay, I want him. He will play, he will score goals, he will be very useful for us. He is a fantastic professional so no problem.
"In September, October, November we will have three matches a week. In that moment, everything is much easier because all of them will be playing. So there is no story with Nando [Torres] or anyone."