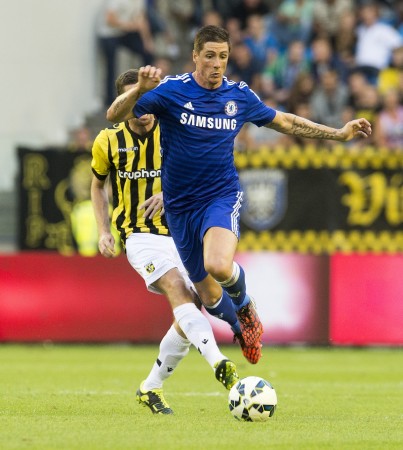 Chelsea are reportedly ready to offer Fernando Torres to Roma as they prepare a move for the Serie A side's forward Mattia Destro.
Having already sold the likes of Samuel Eto'o (released) and Demba Ba (Besiktas), Chelsea are now reportedly looking to offload Torres as well, now that they having secured the signatures of Diego Costa (Atletico Madrid) and club legend Didier Drogba (free agent).
But no clubs seem to be interested in landing the 30-year-old striker, due to his high wage demands. The Spaniard, who still has two years remaining on his Chelsea contract, is reportedly refusing to accept anything less than 175,000-per-week, the package is earning at Stamford Bridge.
However, it is understood that Roma are interested in Torres, if they do not have to pay so much in wages. And now, according to the Mirror, Chelsea are ready to send the Spaniard on a season-long loan to Roma, with the Blues covering most of his wages.
In return, the Blues want the Giallorossi's promising forward Destro, who is being pursued by several big clubs. The 23-year-old, who netted 13 goals from 20 appearances in the Serie A last season, is currently valued at around £20m. But Chelsea are hoping to snap him up for a lesser amount, by adding Torres to the equation.
Chelsea's London rivals Tottenham are also reportedly interested in Destro but Roma will probably be more interested in doing business with Chelsea, due to their interest in Torres.
Destro will certainly be a good fit at Chelsea as he is a counter-attacking striker, known for his good finishing. The Italian also has a very good chance of developing further at Stamford Bridge under Jose Mourinho.
Meanwhile, Chelsea midfielder Willian says he wants to score more goals so he can impress Mourinho and book his place in the Blues star-studded starting lineup.
The Brazilian, who was a regular starter last season, was left on the bench for Chelsea's 3-1 win over Burnley on Monday, only coming on in the closing stages of the game.
And the 26-year-old, who scored four goals in the Premier League last season, feels he needs to increase his tally this time around, to re-gain his place in starting lineup.
"I think I have to score more goals, to play better and just be better," Willian told Daily Star. "Last season I did good, not bad, but I want more."