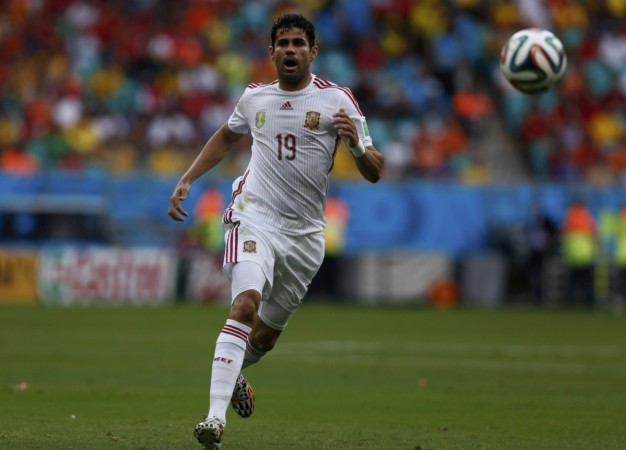 Atletico Madrid President Enrique Cerezo claims that striker Diego Costa's move to Chelsea has not yet been finalised.
Despite Costa, who was pretty poor with Spain in the 2014 World Cup, himself recently stating that his future lies with Chelsea and not Atletico Madrid, Cerezo insists that the deal is far from done as, according to him, the Blues have still not agreed to pay the £32m buy-out clause in the 26-year-old's contract.
"We don't know anything about Costa, all we know is that Chelsea have made contact but we haven't received any money or anything else yet. Until we receive the money from his buy-out clause, he remains an Atletico player," Cerezo told Sky News.
Still Costa, who was one of the main reasons behind Atletico Madrid's successful campaign last season, scoring 27 goals in 35 La Liga games, will probably not be remaining in Atletico Madrid even if Chelsea fail to sign him this summer.
Cerezo himself admits that Atletico Madrid, who have lost many of their top players – including Fernando Torres, Sergio Aguero and Radamel Falcao – cannot convince their players to stay once they receive offers from big clubs.
"We've always tried to convince our players to stay, but the difference between our finances and that of other clubs is very large," he said.
Meanwhile Cerezo has confirmed that Belgian goalkeeper Thibaut Courtois will not be returning to Atletico Madrid on-loan for a fourth consecutive season.
"Chelsea can count on Courtois, because he is their player," he said.
Elsewhere, Oscar insists that he will not be leaving Chelsea this summer despite admitting he had been in talks with big spenders Paris Saint-Germain.
After successfully snapping up Brazilian defender David Luiz (the official unveiling is yet to be announced) for a reported £40m, PSG were being linked to Oscar as well.
Also, it was reported that the Brazilian playmaker was unhappy with the Blues for bringing in Cesc Fabregas from Barcelona as their midfield is already bursting with too many players.
However, the 22-year-old midfielder, who will be looking to face Chile in the last sixteen of the 2014 World Cup, dismissed speculation of him leaving Stamford Bridge this summer.
"My future? I had contacts with PSG, that is true, but it did not go any further," he told L'Equipe. "And next season, I will stay at Chelsea."