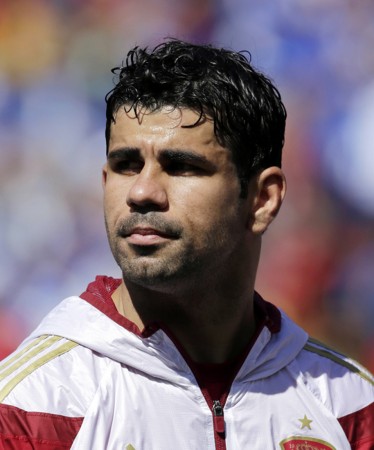 Spain striker Diego Costa has all but confirmed his move to Chelsea by stating that his future lies with the Blues rather than his present club Atletico Madrid.
Although the Blues were expected to announce the signing of Costa before the start of the 2014 World Cup, things were put on standby after the 25-year-old striker picked up a hamstring injury. Soon after his recovery, Costa got busy with his international side in Brazil, further delaying the transfer.
Now that Spain have been knocked out of the World Cup following two back-to-back defeats against Netherlands and Chile, the Brazil-born striker, who has already passed a medical at Stamford Bridge, is expected to finally complete his £32m move from Atletico Madrid to Chelsea.
Despite claiming that he is currently focused on Spain's final group game against Australia, Costa admitted that he may be soon making a move to Chelsea.
"At the moment I am not paying attention to it because I am thinking about the World Cup, but it is clear that my future lies more with Chelsea than with Atletico Madrid. Atletico has been my home, my life and I have great feelings towards the club, but things happen in life and one has to accept them," said Costa, according to Sky Sports.
However, he refused to get into the details of his move to Stamford Bridge, insisting that he is still focused on the 2014 World Cup.
"I do not know what the situation is because I have not been involved in all that. I have asked everyone to leave me alone now because I just want to do the best I can [at the World Cup] and to be with the national team. Now I will have to speak to my family because this year has been so good but also very hard in some aspects."
Costa revealed that his decision to join Chelsea was influenced by his desire to improve his family's life.
"My future is put to one side for the moment, but there are situations in life that one has to take advantage to improve your life and that of your family. Atleti has been my whole life and I think that after all this time that I have fought to have a place there I have succeeded."
"I intend to do things in the best way possible and thanks to them I have won a place with the national team and to wear the Spain shirt."