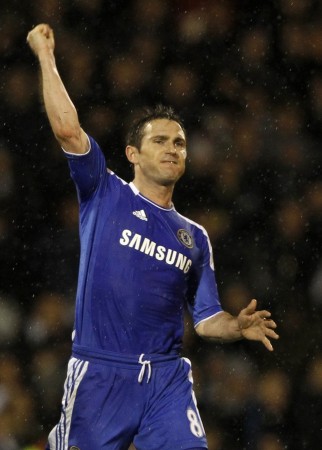 Chelsea owner Roman Abramovich reportedly wants to see Frank Lampard return to Stamford Bridge, once he decides to end his playing career.
The 35-year-old midfielder, who has confirmed that he will be leaving the Blues after 13 years this summer, has been strongly linked with newly formed Major League Soccer franchise New York City, Manchester City's sister club in the United States, as he looks to continue his playing career.
Chelsea boss Jose Mourinho claims that Abramovich wants Lampard to return to Stamford Bridge once he decides to retire from playing football.
"Mr Abramovich, the number one, the most important person at the club, wants Frank to be back very much. Everybody wants it. I want him to be back and the staff want him back, so he comes back for sure. He can come back the way he wants," said Mourinho.
"Mr Abramovich has left the door completely open for him on the understanding Frank can do anything he wants at this club. He can try things, feel where he is better suited, we can feel as a club where he can give us more, but he can come back when he wants and, to repeat Mr Abramovich's words, in the way he wants."
The Portuguese boss, who has become Yahoo's global football ambassador for the 2014 World Cup, says that Lampard can take up whatever role he pleases once he returns to Chelsea.
"He can be a coach, he can start at the academy, he can start being my assistant at the same time because he is doing his coaching badges, or he can start in a different role. He could decide, 'I don't want to start immediately in the coaching role, I want another role'."
"He could be an ambassador, or want to work hand-in-hand with the chief executive, representing the club in important places of our life. He can do what he wants, so he has to be back."
Former Germany and Chelsea midfielder Michael Ballack had also earlier said that Lampard would always be welcomed at Stamford Bridge in the future.
"He'll always be welcome at Chelsea. Maybe it's not bad if he plays a few years somewhere else and gains influences from outside England - but I think there will always be a place at Chelsea for him in the future," Ballack had said earlier.