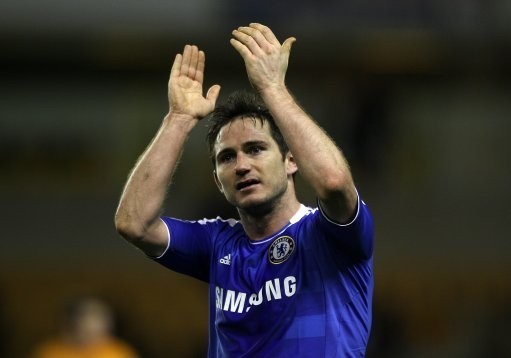 Chelsea veteran Frank Lampard has reportedly agreed to join MLS side New York City when his contract with the Blues expires this summer, while Fernando Torres wants to stay on despite being chased by Inter Milan.
The 35-year-old midfielder, who spent 13 years at Stamford Bridge, was shown the door by Chelsea, after his name appeared on the list of released players submitted by the club to the Premier League.
Despite his age, Lampard is still keen to continue playing, and he has now reportedly signed up for Manchester City's sister club New York, according to the Mirror.
The report further added that the West Ham United product, who is currently busy training with England for the 2014 World Cup, went to City's Carrington complex to meet up with the newly appointed New York manager Jason Kreis to complete some of the formalities for his move.
Lampard, who was earning £150,000-a-week at Chelsea, has reportedly agreed to take a significant pay cut with New York, though his wages are expected to eventually increase, depending on performances.
The England international, who is Chelsea's all-time topscorer with 211 goals, lifted three Premier League titles, four FA Cups, two League Cups, the Champions League and the Europa League during his 13-year stint at Stamford Bridge.
Meanwhile, Torres has reportedly turned down the chance to join Inter Milan this summer, according to the Daily Mail.
Though the 30-year-old has proved to be a big flop since his £50m arrival from Liverpool in January 2011, the Spaniard is determined to stay on and prove himself with the Blues.
Torres, along with Demba Ba and Samuel Eto'o, was heavily criticised by Chelsea manager Jose Mourinho, due to his inability to find goals in majority of the matches last season.
The Portuguese tactician even tried playing Eden Hazard (against Manchester United in the Premier League) and Andre Schurrle (against Paris Saint-Germain in the Champions League quarterfinal first leg) up front, when his strikers failed to do the job.
But despite the expected arrival of his Spain teammate Diego Costa from Atletico Madrid for £32 this summer, Torres reportedly wants to stay on and fight for his place at Stamford Bridge.