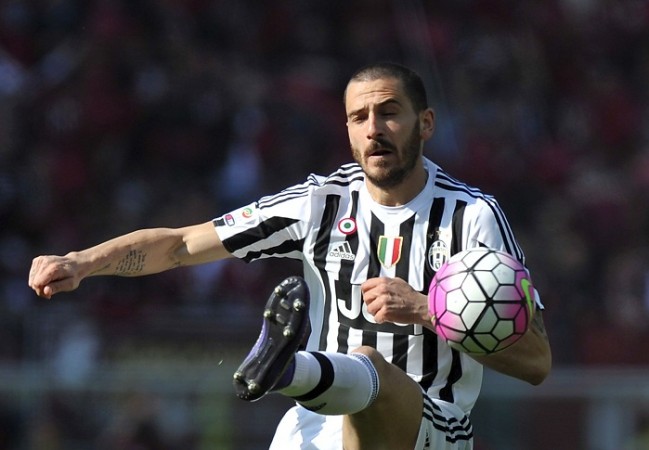 Leonardo Bonucci has established himself as one of the best defenders in the game since he moved to Juventus in 2010. He was a target for Chelsea and Manchester City prior to the start of the season, but the Italian international decided to stay with Juventus.
Also read: Mesut Ozil's agent says the Arsenal playmaker is being made scapegoat for Arsenal's poor form
Things have changed since then and while Leonardo Bonucci did sign a new five-year contract at Juventus in December, he had a recent bust up with his manager Massimiliano Allegri during their Serie A win over Palermo. Allegri was seen saying "Shut up, d***head! F*** off!" to the defender, after he stormed off the pitch. As a result, he was fined and dropped from their Champions League match against Porto.
Following the incident, Max Allegri said that the issue between him and Bonucci has been resolved and thanked him for being so emotionally invested in the game.
"It's a shame that we had the incident on Friday. These are things that happen during the season, I'll go as far as thanking him for raising the emotional tension. But Leo has apologized and everything has been resolved. Did we feel his absence? Luckily we have five excellent defenders and tonight they proved it. So if one is missing someone else plays and we don't lose our defensive quality" The Mirror quoted him as saying.
Despite Allegri forgiving Bonucci after he stormed off the pitch over the weekend, it is said that the Italian international is set to look at his options in the summer. With rumours that Allegri could be on his way out in the summer and Juventus targeting Diego Simeone, Bonucci's representatives believe that he should be allowed to leave in the summer.
Chelsea have already made Bonucci their top transfer target in the summer as they prepare for Champions League football next season. Chelsea owner Roman Abramovich is willing to sanction a world-record transfer fee for the defender and with Antonio Conte in charge of Chelsea at the moment, Bonucci could be tempted to move.
However, Manchester City claimed in October that he was determined to work with Pep Guardiola and with Manchester City's ageing defenders, they could do with someone like Bonucci. After failing to persuade him to join them in the summer, they will try to sign him again.