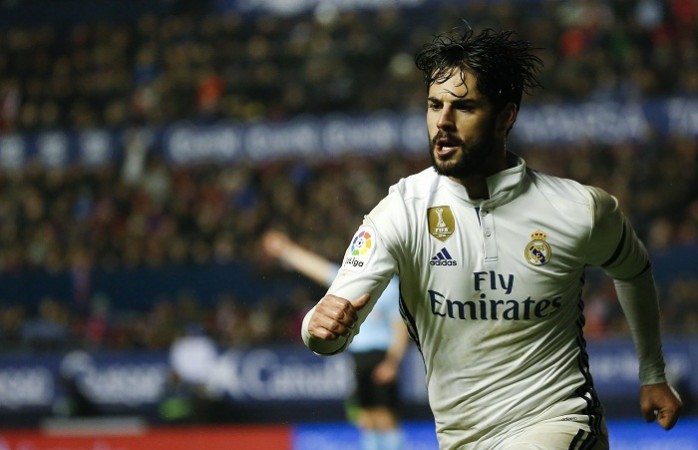 Isco's future at Real Madrid has been in doubt for quite some time now, as the former Malaga man has found it difficult to become a regular in the Real Madrid starting 11 ever since Zinedine Zidane took over the club. And the Spanish international has showed his frustration on numerous occasions throughout this season.
Also read: Antoine Griezmann to snub Manchester United if they fail to qualify for Champions League
Isco has started just 11 of Real Madrid's 21 La Liga games so far and has played only 67 minutes of Champions League football this season. While there is a lot of competition for a place in the starting 11 at Real Madrid at the moment, Isco has always been at his best whenever he gets onto the pitch and certainly deserves more playing time.
Isco started the last two La Liga matches for Real Madrid against Osasuna and Espanyol, and he scored a goal against Osasuna and provided two assists against Espanyol. If this does not convince Zinedine Zidane to give him more playing time, then nothing will.
Despite getting a goal against Osasuna, Isco had to settle for a role on the bench in Real Madrid's match that followed against Napoli in the Champions League, and if things don't change for him before the end of the season there are a lot of clubs around Europe who would love to have a player of his caliber in their team.
Recent reports claim that Arsenal and Chelsea were the first two teams to show an interest in him and later Manchester United and Manchester City also entered the race. And if his situation does not change, Real Madrid might be willing to let him go considering they have a vastly talented squad.
Barcelona has also shown an interest in signing Isco, but it is highly unlikely that Real Madrid would sell him to their biggest rivals. In a recent interview, Isco said that he is calm and he'll make a decision on his future in the summer.
"I'm calm. What worries me is to have minutes. A player's career is small. I'm happy here and would stay many more years. From now until the end of the season, we will make a decision. It is my future at stake" The Mirror quoted him as saying.