Believable characters, gripping storytelling, realistic dialogue, and a character driven plot line drive this bloody and violent succession struggle. A story like this is nothing new in Tamil cinema, but Mani Ratnam has managed to weave an engaging story with solid performances and nuanced characters. CCV as a film stands and sets itself apart from what the Tamil film audience has had to endure all year, this year. Mahat, Simbu sister Ilakya watch CCV at Rohini.
While repeated viewings are a requirement with most of Mani's work, CCV manages to be immediately engaging and draws the viewer in from the very beginning.
There is much to be said of the sheer technical wizardry that has gone into the film and it is a joy to watch masters of their craft like Santosh Sivan, Sreekar Prasad, and A. R. Rahman at work. Having said that, the film does feel like it was a rushed production.
The storytelling and the way characters are portrayed keeps viewers interested in the lives of people on screen. This, in spite of the fact that they are, for most part, ruthless and violent men (one is a local goon, the other is involved in shady business deals with the Arabs, and one smuggles guns and drugs from Russia through Serbia). Mani has given a romanticised and whitewashed view of gangs and gangsters to the point of it not feeling like anyone is in any real danger. Even when a person is shot point blank after being tied up in a sack and beaten is played off like an everyday happening. The gritty filth and blood-soaked life of people "in the business" as such is strangely missing, very un-Mani like, considering his previous gangster outings like the stellar Nayagan and Thalapathi.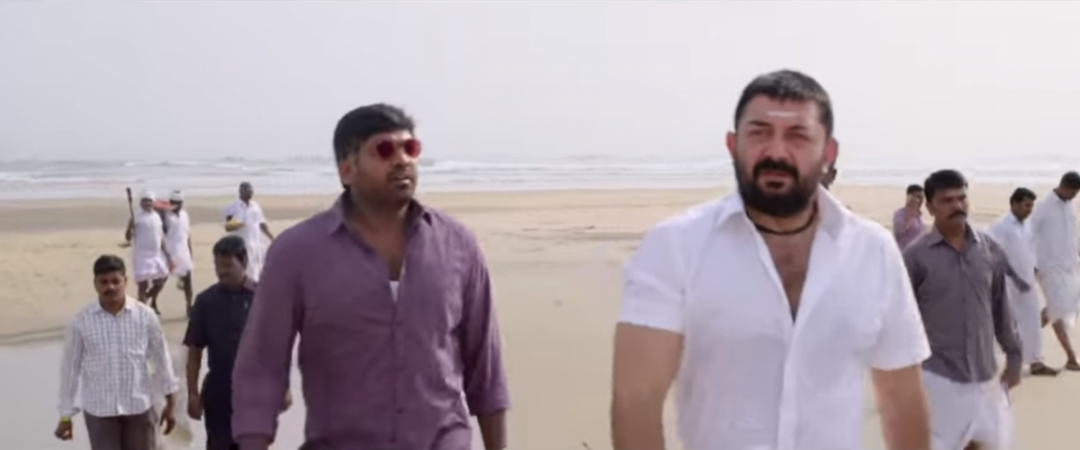 As for the characters- there are four main players in this story, all of whom are cast nearly perfectly played.
All of them are believable as brothers and later as adversaries, filling in every scene rather well. Arvind Swamy as the eldest brother and most likely to take over the reigns plays an impulsive, brash, hammer of a human being, his brothers are obviously smarter and more measured in their ways. Jyothika plays Swamy's wife, a smart, level-headed, and contrasts her role well with her partner in the film. Arun Vijay and Simbu (STR) likewise revel in their roles. They are each distinct and carry their own plots rather fittingly. The way their spouses are handled, however, leaves one wanting.
Mani Ratnam, as a writer and filmmaker, has always portrayed interesting women characters. The women of CCV, however, are, at best, adequate. Apart from the boys' mother and Jyothika, the three other women have barely anything to say or do.
One can, however, take solace in the fact that they are at least not the denigrated to the typical damsel in distress trope. They come off as smart people just caught up in the whirlwind of bad decisions that their men take or put themselves in.
The stand-out performer, however, is Vijay Sethupathi. While he is not on screen much, he absolutely devours every one he is in. The ease and nonchalance with which he plays a police officer on a six-month suspension is intriguing. The pay off for his character—Rasool, is quite satisfying.
Moving on to what didn't work- the first thing that needs to be mentioned is the pacing. There is a bit of downtime towards the end of the second act and it gets a bit slow before picking up again for a well put-together climax scene. The editing in that part of the film also seemed quite choppy, like there are a few instances where a scene jumps abruptly to another scene and not in a smooth, stylistic way. The film overall seems rather rushed, as mentioned earlier. Could Mani have polished off the movie a bit better if he had more time with his actors and crew? Probably, but this is what we have and this is something that the creative team agreed to put out to the public, so there goes that.
Final thoughts
Yes, go watch Chekka Chivantha Vaanam, it is well worth your money and time. This film is likely to find its way into several top-ten lists this year.