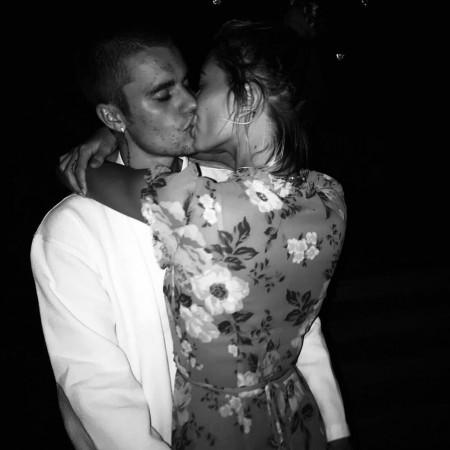 Justin Bieber can't get enough of his wife Hailey Baldwin Bieber. And he doesn't mind letting the world know how he is impressed with Hailey's sartorial choices. But looks like he went a little too far and bold with his comment.
Now Hailey and Justin's Coachella rendezvous is no secret to the world. They have been posting quite pictures and hanging out with supermodel Kendall Jenner. On Saturday, Kendall shared a few pictures on her Instagram with a caption that reads, "glow in the dark friends." Along with a few pictures which had Kendall with Fai Khadra, there was one specific image with Kendall and Hailey. The picture sure got Bieber's attention as he posted a comment that read, "Baes boobs" with a fire emoji.
Considering how Hailey chose to wear a strapless corset top and an oversized jacket, the outfit did attract a lot of attention towards her chest. This is not the first time Justin expressed his naughty thoughts when it comes to wife Hailey Baldwin Bieber. Earlier this month, the Canadian pop star shared a picture of Hailey with the backdrop of the Eiffel Tower and penned a sweet poem for her. "Sunlight falls into the Abyss / Just like i fall into your lips / Waves crash onto the shore / My love for you grows more and more / Sound of the crickets a true meditation / I think about you, Gods greatest creation," his poem read.

In another post, he photoshopped Haley's picture with his face and wrote, "The internet gotta chill jailey for real." Hailey did not appreciate the humour but she sure stated how she continues to love Justin despite his quirks. She did the same by sharing a picture of Justin on her Instagram and captioned it, "my love you are an incredible man, you make me a better human being, you make me happier than I've ever been. Insanely proud of who you are and who you're becoming.. I love you more every single day."
The couple has struggled through a lot of ordeals with Bieber dealing with mental illness. However, Hailey has been very supportive.