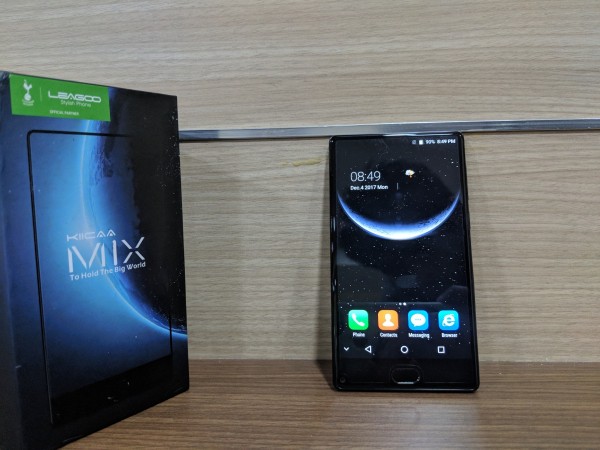 The bezel-less design in smartphones took off rapidly this year and consumers welcomed it with open arms. Apple joined the bandwagon with its iPhone X, giving bezel-less phones a much-needed boost, and now we witness every other manufacturer giving it a go.
Amidst the crowd, there's one brand from China that's trying to make a difference with its budget-friendly approach. Leagoo is not the first (or even the 31st) name that comes to anyone's mind while looking for a smartphone in India, but it has its presence felt in China. But one particular phone from Leagoo called the KIICAA MIX is hard to miss, as it is offering the bezel-less design at an unbelievably low price.
Leagoo KIICAA MIX can be shipped globally from GearBest for $110, which roughly translates to about Rs7,000 in Indian currency. We got this device for review, through which we know that buyers will need to shell out another $40 (about Rs 2,500) towards courier and customs. So, if you're based in India and willing to go through the trouble of ordering KIICAA MIX from China, it will cost you less than Rs 10,000 and up to 25 business days (max) delivery time.
Before you take that call, here's the review of this phone, which we highly recommend you read. After sales service is going to be a challenge for this phone, so add that to your own risk.
As for the device itself, here are our final thoughts on KIICAA MIX:
Design & Display
We are calling KIICAA "poor man's Xiaomi Mi MIX" for a reason. The handset draws close similarities with Mi MIX by the "Apple of China", and Leagoo does a decent job at that. Sometimes clones can become a centre of jokes for their poor illustrations, but Leagoo manages to pull off an acceptable device with KIICAA MIX.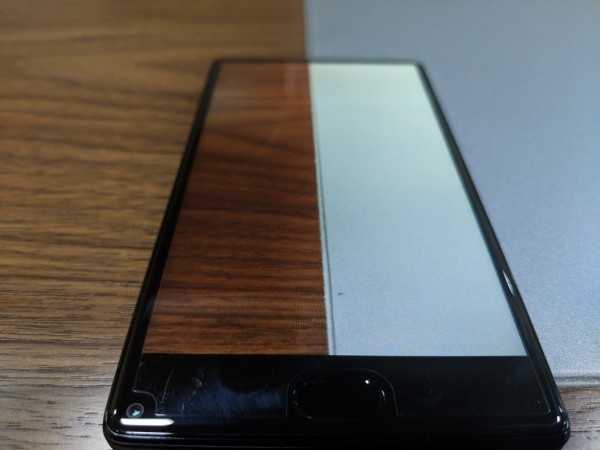 The polycarbonate back feels cheap, but the pricing of the handset justifies it fairly. The edge-to-edge display is truly an eye-candy as KIICCAA MIX is a three-sided bezel-less device with one side bezel housing the home button and the selfie camera.
By removing the bezels, Leagoo had to place the earpiece at the top – the usual place for a 3.5mm audio jack except that there isn't one. You'll have to rely on your wireless buds or USB Type-C to 3.5mm jack connector for music.
We were also unhappy with the placement of the selfie camera at the bottom left corner, but that's the only way Leagoo could've avoided putting a notch at the top. We found ourselves taking selfies by flipping the phone upside down for better results.
On the rear, the phone packs a dual camera setup, the performance of which we will discuss next up. The right side of the device has power and volume controls and on the left is a SIM card tray. The USB Type-C sits at the bottom, between the speakers, which perform reasonably.
The display measures 5.5 inches and packs 1920 x 1080 pixels. The phone is shorter than most 18:9 phones, and quite handy as well. People with small hands can easily operate the phone, and even pull down the notifications without stretching too much.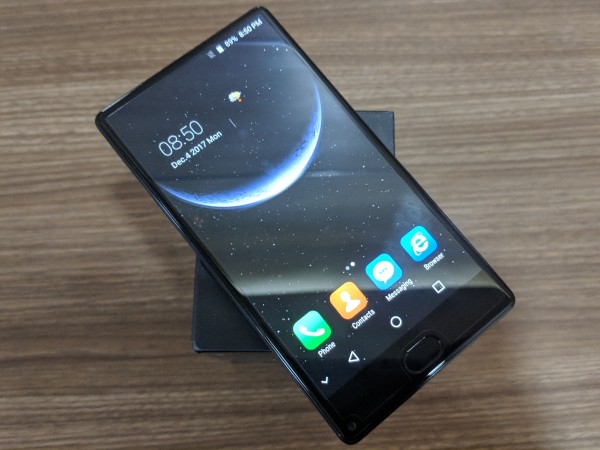 The display is bright enough to be used under sunlight without any problems. The well-balanced colour reproduction makes it suitable for watching movies and playing games. In our view, the design and display of the KIICAA MIX is the best thing that Leagoo offers in this sub-Rs 10,000 smartphone.
Camera
As impressive as the design and display of the KIICAA MIX is, the camera of the device is totally opposite. We were disappointed by the rear and front cameras as they lacked detail, colour balance, contrast, and natural hues.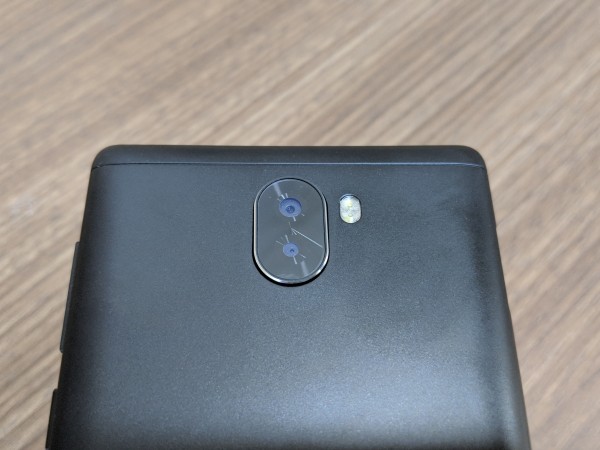 The dual cameras at the back feature a 13MP 4P lens with f/2.0 aperture + 2MP secondary sensor. The portrait mode, which utilizes both sensors underperformed as it only formed a circle around the subject and allowed us to adjust the aperture to allow more room for the subject. There's a special shortcut in the camera UI for black and white, which we assumed would be the phone's specialty – sadly it's not.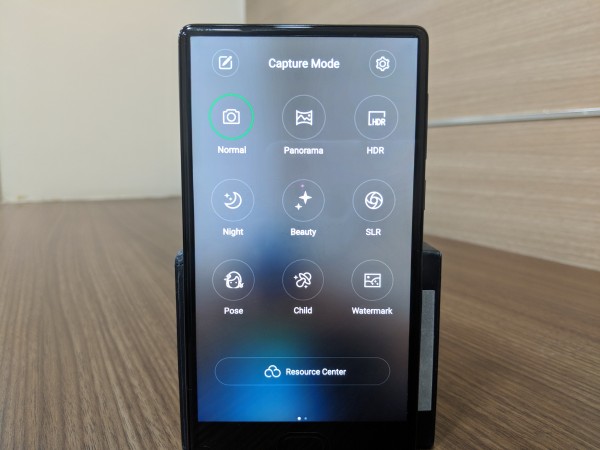 Finally, taking selfies was a challenge as it is due to the odd placement of the camera. But the 13MP sensor failed to capture details under insufficient lighting. But throw some good light, (sunlight or well-light showroom lights) and you'll be able to shoot some Instagram-worthy images.
We did not have high hopes for good selfies considering the phone's price tag. But then there's a beautification feature built-in, which does a good job and stands as the only hope for the phone's front and rear camera.
Check out some samples shot using KIICAA MIX.
Performance (Device & UI)
This isn't the first Leagoo smartphone we are reviewing. Since we've had experience with the phone, we assumed the performance will be a chore. To our surprise, the KIICAA MIX does a fairly good job for a smartphone that's priced at less than Rs 10,000.
Powered by a 1.5GHz MediaTek octa-core processor and paired with 3GB RAM, KIICAA MIX is suited for your day-to-day use. Don't expect to run Asphalt or heavy GPU apps and games as it is likely to underperform.
You'll be able to enjoy 4G on this phone, do your regular social networking and video streaming with ease. We did face some lags, especially while scrolling through Facebook and Instagram. Even with constant use, there wasn't any heating problem, which turned out to be a winner for us.
Leagoo has done some magic on the UI as well, which makes it perform better. It could be the responsive touch, Android 7.0 Nougat magic and smooth scrolling within Settings and apps, but the overall performance of KIICAA is superior to the Leagoo T5 we reviewed previously.
Battery
The KIICAA MIX comes with a standard 3,000mAh battery, which lasted 4 days on standby. But with our use, we managed to get it for 6-7 hours before running out of juice. Charging the handset wasn't an issue as it would fully recharge within 90 minutes. That's pretty standard for phones with such a battery size.
Security
Finally, to wrap this review, we were impressed by the phone's biometric scanner placed within the Home button of the phone. It's fast, efficient and accurate. KIICAA MIX's fingerprint scanner is on par with any budget phone we currently find in the market.
Verdict
The biggest question is should you go through the trouble of importing this smartphone from China? The answer is both yes and no!
Yes, if your love for bezel-less smartphones supersedes any obstacle that isn't an expensive price tag then KIICAA MIX is perfect for you. A device that's good enough to flaunt, but that's about it.
For those who are practical and careful, KIICAA MIX isn't an ideal choice. You do not have the best camera, the performance is average and you can only get so far with a good battery and design. $100 isn't a small price, especially when there are worthy options from brands like Xiaomi in India, which also offer solid after-sales support.
Those living in China, however, can certainly give this phone a go as it is light on your pocket and lets you get the true bezel-less experience.