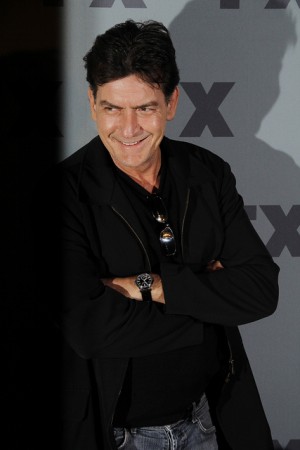 Charlie Sheen launched a verbal attack on model and reality TV star Kim Kardashian via the social networking site Twitter early Tuesday.
The 49-year-old veteran actor went on a Twitter rant after he was allegedly told by a friend that a 6-year-old girl was deeply hurt when Kardashian refused to give her an autograph.
"She cries about it every night before she goes to sleep," he tweeted, New Zealand Herald reports.
Sheen was so disturbed after hearing the story that he went to the extent of calling the mother-of-one "pox on the face of entertainment".
He told TMZ: "Zero gratitude, zero awareness, zero talent, a pox on the face of entertainment she is!"
Sheen said that he had written the post a month ago after he learnt of Kardashian's snub from Soul Man star C. Thomas Howell. Sheen said that there were other people around Kardashian who witnessed her ignoring the child's request and asking her assistant to handle it, saying: "Oh God, can you handle this," Kansas City reports.
In another "furious" tweet, the former 'Two and a half man' star wrote: "You are lucky that ANYONE cares about your gross and giggly (sic) bag of funk you dare call an a**." He finished his post by praising the 34-year-old socialite's rapper husband Kanye West and taking another dig at Kardashian.
He wrote: "My apologies to your hubby, great guy I'm sure, I hope his vision returns one day."
A while later, Sheen deleted his messages and posted an apology. Sheen said: Dear Kim, my extreme bad. really embarrassed by my actions. I was already p****d about some other c**p that had nothing to do with you. I heard a story that bothered me. Wrote some trash you didn't deserve. Ever. I'm an idiot as often as I'm a genius. that day, clearly I was the former. xox c." He concluded the tweet with the hashtag "#ShutUpSheen".