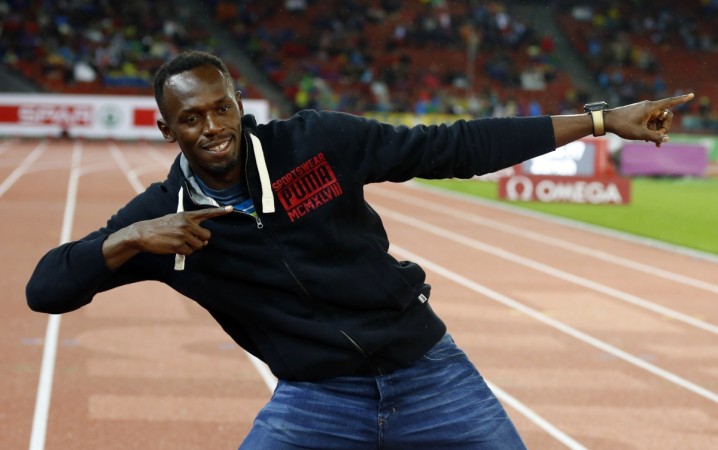 Jamaican sprinter Usain Bolt will make his first trip to India to have a face-off on the cricket field, titled 'Bolt and Yuvi - Battle of the Legends', organised by sportswear Puma.
The event will take place at the Chinnaswamy stadium in Bangalore on 2 September.
"Puma brings Usain Bolt down for a one-of-a-kind cricket face-off between two sporting legends. For the first time ever, watch the Fastest Man on Earth - Usain Bolt, challenge Yuvraj Singh to an exclusive cricket showdown at Chinnaswamy Stadium on September 2," read a media release issued the brand on Tuesday.
However, the format and details of the match have not been revealed yet.
Bolt is a passionate follower of cricket and had earlier expressed his desire to play in the Indian Premier League as a pacer. The 28-year-old is six-time Olympic gold medallist and the world record holder in both 100m and 200m.
Bolt recently recorded a new world indoor best time of 9.98 seconds to win the 100m race in Warsaw, Poland. The Jamaican also announced that he will not retire until 2017, after changing his decision to retire after the 2016 Rio Olympics at the request of his sponsors and fans.
Yuvraj Singh, on the other hand, is currently not part of the Indian team which is touring England. The 32-year-old, a left-handed all-rounder, was the Man of the Series when India won the 2011 World Cup.
Meanwhile, the Athletics Federation of India (AFI) stated that the event has nothing to do with them and they do not have any role in Bolt's visit to India.
"Both Bolt and Yuvraj are brand ambassadors of the sponsors, we are not involved in this programme," an AFI official said.