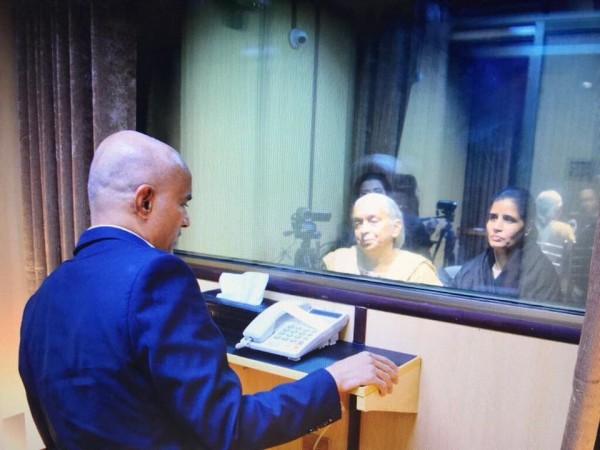 A group of Indian-Americans and Baloch nationals on Monday, January 8, staged a protest by the name of "Chappal Chor Pakistan" outside the Pakistan Embassy in Washington to show their support to former Indian Navy officer Kulbhushan Jadhav.
The protesters said the outrage was over the mistreatment towards Kulbhushan Jadhav's wife and mother when they visited in Islamabad to meet the man who Pakistan claims is an Indian spy, and who has been sentenced to death by a Pakistan military court.
"#ChappalChorPakistan" and "in solidarity Kulbhushan's family" were two of the most commonly found placards among the protesters. Soon after this, Twitter was abuzz with the hashtag as many social media users joined the protest online.
The protesters braved the freezing low temperatures that hit Washington as they carried placards and shouted slogans in support of Kulbhushan and his family. They also carried pictures of the interaction between Kulbhushan Jadhav's wife and mother, which showed them meeting with a glass partition between them.
One of the protestors told ANI: "Pakistan's narrow-mindedness was exposed with how they treated Kulbhushan Jadhav's mother and wife, what policymakers and people here need to understand is that Pakistan as a whole is also being run with same narrow-minded mentality."
Shoes were kept outside the embassy to embarrass Pakistan for their action towards Kulbhushan Jadhav's family. "When they stole the chappal of a woman (Jadhav's wife) who was in distress, I hope they can use these also. I want to say one thing- Pakistan ka matlab kya? Amreeka se dollar la, Hindustan ke joote kha! (What does Pakistan mean, take dollars from US and shoes from India?)" an agitated protester said.
The footwear-confiscation incident received widespread attention when India's External Affairs Minister Sushma Swaraj criticised the Pakistan government for it. The minister also said if Kulbhushan's kin indeed had anything in their shoes, it would have been detected during the security check of the Emirates flight from Dubai in which they arrived in Islamabad.
Swaraj, who was extremely vocal about this incident, said the mother also was also not allowed to speak in their native language, Marathi, as the Pakistani officials switched off the intercom.
The family visit that happened in Islamabad did not pan out the way the family would have wanted. Kulbhushan's family members were allegedly mistreated by Pakistani officials: They were made to remove the mangalsutra, bangles and bindi.
Furthermore, both the women were asked to change their attire for security reasons. The Pakistani officials had also taken away Jadhav's wife's shoes and did not return them.
The protests outside the Pakistan embassy by the Indian Americans and Balochis was to send a message to the Trump administration to suspend all ties with Pakistan.
US President Donald Trump in his tweets has already blamed Pakistan for giving back "only lies and deceit" for all the support from the US government.