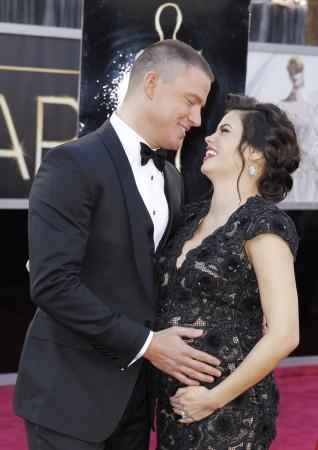 After the shocking news of Channing Tatum and Jenna Dewan split, fans are hoping that Ryan Reynolds and Blake Lively will work out their marriage.
Channing and Jenna, who are proud parents of a 4-year-old daughter, have announced their split through an Instagram post. They posted a picture saying that they have decided to "lovingly separate" after nearly nine years of marriage.
"Absolutely nothing has changed about how much we love one another, but love is a beautiful adventure that is taking us on different paths for now," said the stars.
The couple first met on the sets of their movie Step Up in 2006 and tied the knot after three years in 2009. Recently, they also shared a picture of themselves with doodles done on their face by their daughter Everly with a caption: "When you fall asleep around a toddler".
The actors, both 37, also attended the Kids' Choice Awards together and the news of the split came as a shock to fans.
Fans started speculating their split after Jenna was spotted alone in the annual Vanity Fair Oscars after-party. However, she said Channing was on "daddy duty."
The actors also said in their post that they will not be "commenting [on their decision] beyond this."
Meanwhile, though Deadpool star Ryan has debunked the rumors of divorce with wife Blake, internet users cannot help but get scared thinking about a possible split of their favorite couple.
However, divorce rumors about the Deadpool star and his wife are nothing new. Earlier, Australian magazine NW had claimed that the couple was heading for a split because they spent "long periods of time apart."
Here's how Twitter reacted to the news and wished for Ryan Reynolds and Blake Lively:
Now that Channing Tatum and Jenna Dewan-Tatum are separating, our only hope is Blake Lively and Ryan Reynolds???

— Dana Loesch (@dana_loesch18) April 3, 2018
first chris pratt and anna faris and now channing tatum and jenna? love is doomed. don't fail me now ryan reynolds and blake lively

— Kiersten ? (@HausOfKiersten) April 3, 2018
First Anna Farris & Chris Pratt, now Channing Tatum and Jenna.. I swear to GOD if Blake Lively and Ryan Reynolds divorce there is no hope for any of us

— b (@BreeCarvalho1) April 3, 2018
Ok Channing Tatum and his wife's separation is truly sad there is something in the water protect Blake lively and ryan reynolds at all costs

— anna (@regasanna) April 3, 2018
Channing Tatum and his wife are splitting up so basically the only celeb couples left that I have faith in are Keith Urban & Nicole Kidman, Dax Sheppard & Kristin Bell and John Krasinski & Emily Blunt. Alternates are Ryan Reynolds & Blake Lively and JT & Jessica Biel.

— Colonel Sanders. (@SarahCTurlan) April 3, 2018
2017: Anna Karis and Chris Pratt split
2018: Channing Tatum and Jenna Dewan Tatum split

2019: if Ryan Reynolds and Blake Lively try splitting we should consider unplugging love and plugging it back in.

— Hailey Williams (@HaileyAnna2014) April 3, 2018
Chris Pratt, Fergie, and now Channing Tatum...If Ryan Reynolds and Blake Lively divorce then I'm ending my life!

— Steven Phelps (@_phelpsy) April 3, 2018
Channing Tatum and Jenna Dewan are breaking up, I swear if Emily Blunt and John kransinski or Ryan Reynolds and Blake Lively break up Ima throat punch them all lol pic.twitter.com/ZNcgX2UHto

— Nay (@Denasia96) April 3, 2018
Channing Tatum and Jenna Dewan Tatum are splitting up. It's official, THERE'S NO SUCH THING AS TRUE LOVE. I'm dead. This confirmed that I will stay single til death. Bye.

p.s. if Will Smith and Jada Pinkett Smith or Ryan Reynolds and Blake Lively separate. Love is dead. Forever.

— Rexxxxxxx (@explainedrk) April 3, 2018