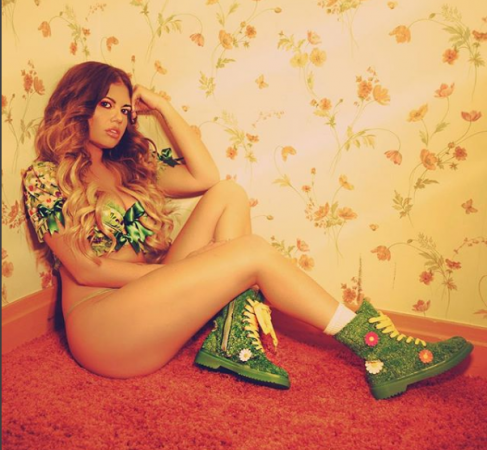 Chanel West Coast treated fans to a wonderful Thanksgiving present. She posted pictures where she is practically naked in a tiny thong.
The hot pic shows the MTV star in a thong with a leaf pattern that barely covered her crotch and a top that barely covered her chest. "Happy Thanksgiving! This pic has nothing to do with thanksgiving other than the color scheme is very thanksgiving-ish but I thought it was a good place to start with listing what I'm thankful for," she began her caption. Well, we're thankful anyway Chanel.
"I am SO thankful for this life god has given me. Thankful for my amazing supportive family, my true friends, my career, my fans," she continued.
The Ridiculousness star also wrote "My god given beauty I didn't have to go out and buy, being healthy, thriving in life, and for the self-confidence and will power to stay pursuing my dreams even after countless set backs and failures."
"Thankful for the confidence to post pics like this even when deep down I'm slightly insecure about my little belly. Thankful for the natural constant energy god gave me that allows me to work as hard as I do. Thankful for being able to do fun photo shoots like this and then post pics and receive so much love from friends and fans! Thankful for soooo much I could go on and on but really I'm just thankful for being alive," Chanel went on.
The star was previously linked to Justin Bieber.
Check out the pics here: