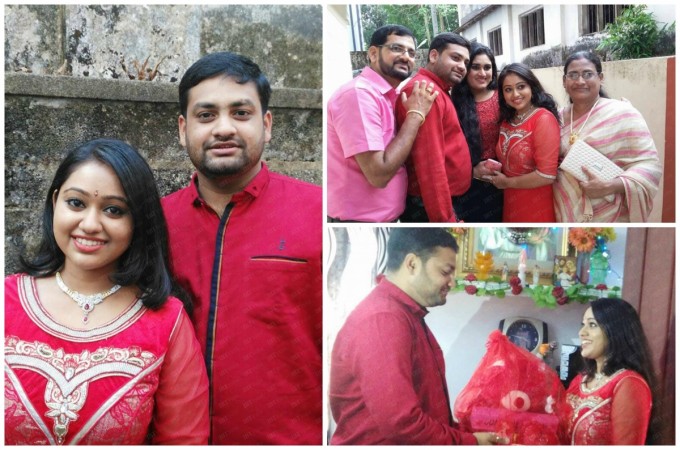 Television actress Meghna Vincent, who is known for her portrayal of Amrutha in the popular Malayalam serial "Chandanamazha", is set to enter into wedlock soon.
Meghna will marry actress Dimple Rose's brother Don Tomy, and the couple got engaged in a private family function at Meghna's house on Feb. 14. The engagement news came to light when Dimple shared photos of the function on her Facebook page.
Check Meghna's Bethrothal Pics
Both Meghna and Don were spotted wearing red on their special day, and the soon-to-be-groom even presented special gifts to the actress on Valentine's Day. The couple is expected to get hitched in 2016 in an arranged marriage. Don is the chief executive officer at a private firm named Dream Creations in Thrissur.
In June 2015, Meghna had become a hot topic of discussion for Keralites when her statements while campaigning for Bharatiya Janata Party candidate O Rajagopal went viral on social media. During the Aruvikkara by-election campaign, she took a dig at the ruling United Democratic Front (UDF) government by mentioning about the poor conditions of the roads in Kerala compared to "other countries like Dubai, Chennai and Mumbai."
"I travel to other countries for shooting, like Dubai, Chennai and even Mumbai and in order to save time I apply make-up while travelling. I can do that in Chennai, but that is not possible in Kerala due to the poor conditions of the roads," Meghna had said to the media.
Following this, social media users started trolling her and even Kerala Chief Minister Oommen Chandy had, in reply to the actress' statement that she couldn't apply make-up in her car while on Kerala roads, had asked her to apply make-up in a studio and not inside a car.
Check out photos of Meghna Vincent and Don Tomy's engagement here:
--