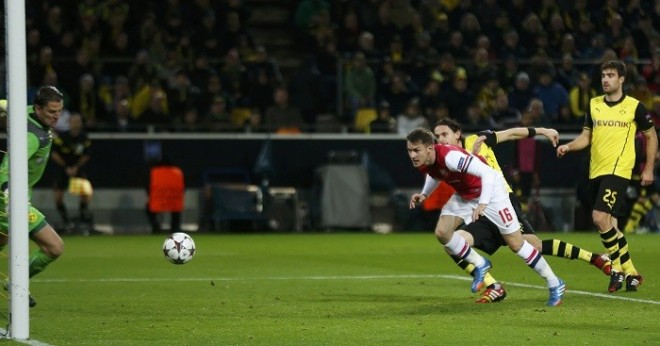 It is not often that you see Arsenal play with their backs firmly and totally planted to the walls to stop their opponents from scoring, and even rarer for them to come away with a victory from such a game. But then, when you have, arguably, the most in-form midfielder in Europe at the moment in your team, it really isn't, when you come to think of it, that surprising.
Aaron Ramsey popped up with a headed winner in the second half at the Westfalenstadion, in Arsenal's first real foray into the Borussia Dortmund box until then, to hand the English Premier League side a vital 1-0 victory and with it move one huge step closer to progressing into the knockout rounds of the Champions League from the Group of Death.
The proverbial smash and grab was well in evidence in this game as a brilliant defensive display from Arsenal, led by Per Mertesacker, who seemed to revel in his home country saw them jump on that plane back to London with all three points firmly in their grasp, as Dortmund were left wondering how on earth, despite dominating the game for large parts, they, first of all could not find a single goal, and second of all, did not pick up a single point from the game.
The two Arsenal-Borussia Dortmund matches -- between sides that play football the right way -- have been far from classics, but Arsene Wenger, after Wednesday's performance, will not mind even a little, after seeing his side put away that "defensive naivety", which cost them a 2-1 loss against the Germans at the Emirates, firmly in a locker far far away.
Despite the win, Arsenal still have plenty of work to do in their group following Napoli's thrilling 3-2 win over Marseille, which sees the Italians level on points with Wenger's side.
Gonzalo Higuain scored a brace, including the winner to help Rafa Benitez's men go up to nine points from four games, the same as Arsenal. Dortmund have six points while Marseille are now definitely out after losing all four of their matches.
At Stamford Bridge, Chelsea had it easy against Schalke as the Blues' strikers -- Samuel Eto'o and Demba Ba -- in the absence of the injured Fernando Torres, came to the fore with the former bagging a brace and the latter completing the 3-0 win.
Chelsea, on nine points from four games, moved up to top spot with the victory, three points ahead of Schalke. FC Basel are a point behind the Germans on five, after drawing 1-1 with Steaua Bucharest, who have two points to their name.
The Spanish sides had a field day as both Barcelona and Atletico Madrid marched into the last 16 with respective victories.
Lionel Messi got his scoring boots firmly back on, netting a double in a 3-1 win over AC Milan. Messi, scoreless in four games prior to this, opened the scoring from the penalty spot, following Ignazio Abate's challenge on Neymar inside the box. Sergio Busquets headed in from Xavi's freekick to make it 2-0, before a Gerard Pique own goal right on halftime gave Milan hope at the Camp Nou.
However, the points were signed, sealed and delivered seven minutes from time, when Messi completed his double after a nice return pass from Cesc Fabregas.
The win moved up Barcelona to ten points and assured progress, while Milan still have a lot to do, with just two points separating the Italians, in second with five points, from bottom side Celtic, who went down 1-0 to Ajax in Amsterdam - Lasse Schone scoring the winner for the Dutch side in the 51st minute.
Atletico joined Barca in the last 16 with a 4-0 thumping of Austria Wien, a win that kept them perfect in the Champions League after four matches.
The goals came from four different scorers - Miranda, Raul Garcia, Filipe Luis and Diego Costa - as Diego Simeone and co. marched into the next round, having already picked up 12 points from four matches.
Zenit St. Petersburg and FC Porto drew 1-1 in Russia to keep the two very much in contention to finish in second place.
Results: Group E: Chelsea 3-0 Schalke; Basel 1-1 Steaua Bucharest. Group F: Borussia Dortmund 0-1 Arsenal; Napoli 3-2 Marseille. Group G: Atletico Madrid 4-0 Austria Wien; Zenit St. Petersburg 1-1 Porto. Group H: Barcelona 3-1 AC Milan; Ajax 1-0 Celtic.