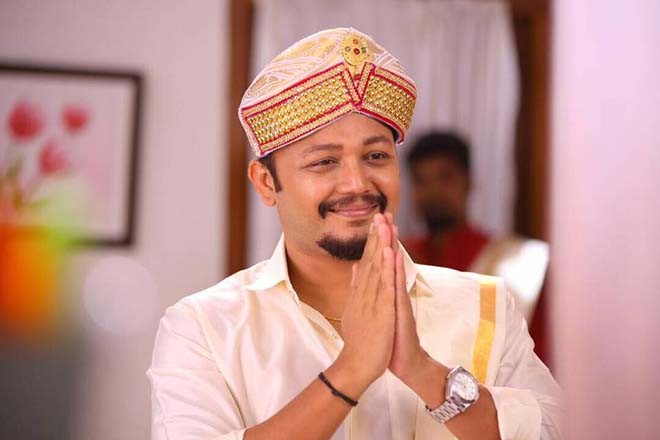 After successful film Operation Alamellama, director Suni is back with his second outing of the year in the form of Chamak in which Golden Star Ganesh and 'Kirik Hudugi' Rashmika Mandanna play the leads.
The film has Judah Sandhy's music, and Kush Kush and O Sanjeya Hoovae songs have struck the chord with the viewers. The Kannada film has Santhosh Rai Pathaje's cinematography and Manu Shedgar's editing.
Chamak is an out-and-out comedy film laced with romance. It is about a married couple and the way they discover the love in their relationship. Ganesh plays the role of a gynaecologist, who loves partying with his friends. Rashmika, who is basking in the success of Anjani Putra, will be seen as his wife in the flick.
On a rare note, Sadhu Kokila plays the role with negative shades. Girish Shivanna, Akshay Nayak, Dheeraj Shetty and others are in the cast.
The movie has generated a lot of buzz with the teaser. The clip, without giving anything about the film, spiked curiosity of the viewers. The success of the album has doubled the expectations of the cine-goers around the Chamak.
Reviews:
The movie has opened to positive reviews. As always, Suni's dialogues have been appreciated by the audience, while having good words about the performances of Ganesh and Rashmika Mandanna. The comedy laced with good content has won the hearts of the viewers. Here, read their response towards the flick:
KFI Box-office: #Chamak a fine entertainer with good ample of emotions, 2nd half is very good. Vintage @Official_Ganesh is back on a perfect date Another victory for director @SimpleSuni after alamelamma...Congrats!
3.5*/5
Sunayana Suresh: @SimpleSuni delivers, @Official_Ganesh is effortless and @iamRashmika is a revelation. #Chamak is a good end to 2017
Cineloka.co.in: #Chamak Interval. Lively First Half. Sakkath Chamaks. Comedy Scenes
As usual @SimpleSuni dialogues are highlight.
#Chamak towards climax. Emotional scenes are brilliant. @Official_Ganesh is just too good
"Nee Nanna Olave" song montages are very pleasing. Wonderful composition by @judahsandhy
#Chamak
#Chamak Interval. Lively First Half. Sakkath Chamaks. Comedy Scenes
As usual @SimpleSuni dialogues are highlight.
Praveen Shankar: The film struggles with gripping story , even dialogs reminds you an old whatsapp jokes.#Chamak
Mirchi RJ Smitha: #Chamak A mix of class comedy cuteness charm & emotions ! @Official_Ganesh & @iamRashmika make a cute onscreen couple . Good styling for Ganesh and a good role for Rashmika too. A family entertainer @SimpleSuni you got it right with this one. "Watch" it !
Pranav Chandra: Watched @chamakmovie its an awesome movie fully of comedy and romantic all the best to the team a big hit #chamak
Shashiprasad SM: #Chamak inda nanu #chamak neevu? A nice heart touching #chamak @chamakmovie Do watch this for a happy ending to wrap up #2017
Tayeeb khan: #Chamak Out Now... Incredible Performances by #Ganesh & #Rashmika. #Romcom.
Rating : 3.5 / 5
Check Out Full Review at