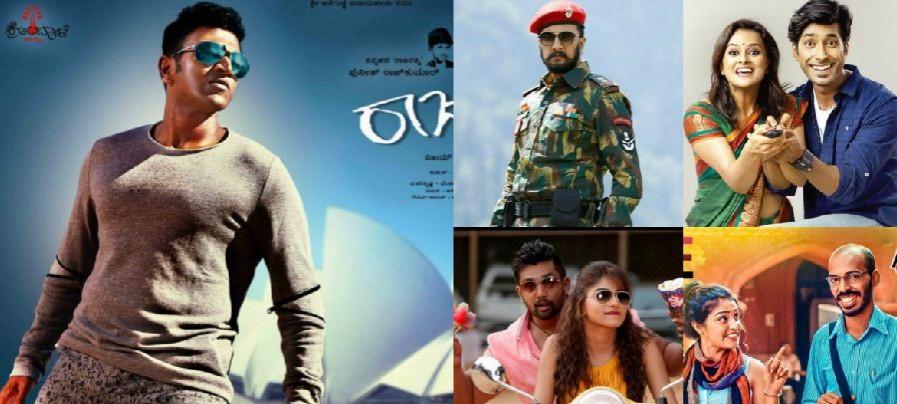 Sandalwood has suffered huge losses in 2017. The success rate of the Kannada film industry is far less than the previous years even as 4 to 5 movies have released in a week on an average.
Every year, the success rate is between 15-20 percent, but in 2017, it is reduced to dismal 5-6 percent, say industry insiders. "It is the worst year for Sandalwood. I myself lost crores of rupees this year," says leading producer K Manju.
For years, the film industry has blamed lack of theatres and non-Kannada movies for the abysmal performance of Kannada films. But distributor Jack Manju differs on that. "The problem lies in our content. The performance of Raajakumara shows that we have a solid market here, but we unable to pull the audience to theatres. We are making too many movies and the audience are finding it difficult to differentiate between a good and bad film," he explains.
"Moreover, the release of big-budget movies at the same time has played a spoilsport here. People in the industry should sit together and plan their releases accordingly as two big films releasing at the same time will eat into each others' business," he adds.
In the first quarter, over 40 movies were released out of which only Hebbuli and Raajakumara turned out to be profitable ventures, while Beautiful Manasugalu broke even. Chowka ended up doing decent profit.
The hopes of the industry to recover in the second half got a severe blow as big-ticket movies like Maasthi Gudi, Bangara S/o Bangarada Manushya and Pataki failed to rake moolah at the box office. Chakravarthy turned out to be a decent grosser.
However, newcomer Raj B Shetty's Ondu Motteya Kathe once again proved that good content will always be embraced by the Kannada audience as it became the first hit of the third quarter. Unfortunately, the movies with stars like Vismaya, Mass Leader and Mugulu Nage bombed at the box office. Darshan's second release of the year, Tarak ended up as an average grosser.
Suni's Operation Alamelamma turned out to be a hit, while Chethan Kumar's Bharjari earned the blockbuster status in the third quarter.
In the fourth and last quarter of the year, over 50 films have been released so far. Vikky Varun's College Kumar has emerged as a surprise winner and Shivaraj Kumar's Mufti is likely to become one of the biggest hits of 2017.
Also, Puneeth Rajkumar's Anjani Putra has got a grand opening, concluding the year on a positive note for Kannada cinema.
However, the major development in Sandalwood in 2017 is the release of the dubbed movies in Kannada. The years of efforts by pro-dubbing groups finally came into fruiton and Ajith Kumar's Tamil movie Yennai Arindhaal gets the credit of being the first film to be dubbed in Kannada after decades.
Hollywood film The Fate of The Furious (Vega Matthu Udvega 8) and Ajith's Kumar another Tamil film Arrambam (Dheera) were the two other films to be dubbed in Kannada.
Highest Grossing Movies at Kannada box office in 2017
Movie Name
Distributors' Share
Status
Raajakumara
Rs 38 crore (Gross: Rs 55 crore)
Blockbuster
Hebbuli
Rs 20 crore (Gross: Rs 30+ crore)
Hit
Bharjari
Rs 17 crore (Gross: Rs 26+ crore) (still running in cinemas)
Super Hit
Chakravarthy
Rs 16+ crore
Average
Tarak
Rs 14.5+ crore
Average
Mufti
Rs 12+ crore (still running successfully)
Hit
Operation Alamelamma
Rs 4.5+ crore (Gross: Rs 7.5 crore)
Hit
Chowka
Rs 4.2+ crore (Gross: Rs 7+ crore)
Average
Ondu Motteya Kathe
Rs 2.5+ crore
Hit
Beautiful Manasugalu
Rs 2.25 crore
Average
The figures are approximate and adequately indicative of the box office performance of the films, compiled from various sources. And flop movies with big stars are not considered in the list.