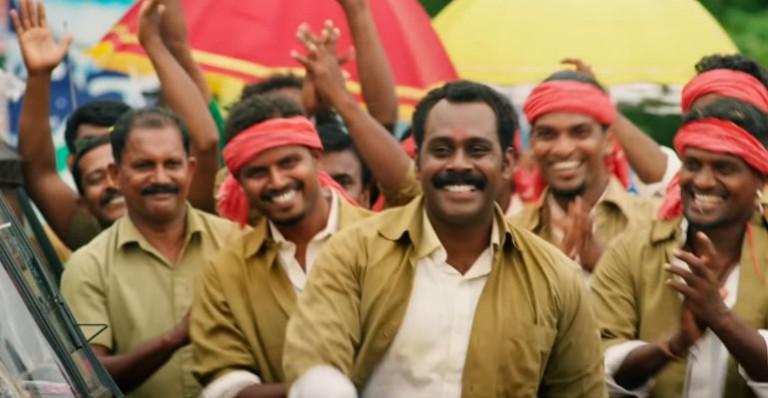 Vinayan's new movie 'Chalakkudikkaran Changathi' inspired from the life of late actor Kalabhavan Mani hit the theatres across Kerala on September 28. As expected, Vinayan who played a crucial role in shaping the career of Mani has delivered a fine film, but in some instances, overdosage of melodramatic scenes make the audiences scratch their head.
Kalabhavan Mani's life portrayed in a raw manner
In the first half of 'Chalakkudikkaran Changathi', the director concentrated on narrating the early life of Kalabhavan Mani which was filled with poverty. The initial struggle of Kalabhavan Mani while working as an auto driver and a mimicry artist will make audiences cry for sure. Later, the film shifts to top gear and the director smoothly portrayed the transition of Kalabhavan Mani from an auto driver to a Superstar. However, when the director tried his best to render perfection to characters, the storyline badly lost its strength.
Final days of Kalabhavan Mani in Paadi were showcased in the second half. In the second half, the director has tried to convey Kalabhavan Mani's philosophical views on the journey of life. The film ends with a bang, and most of the viewers were seen wiping their tears while coming out of the theaters.
In the film, the director also handles politics which is happening in the entertainment industry. Vinayan also talks about the struggles faced by dark-skinned actors in Mollywood.
Rajamani stole the show
Young actor Rajamani has done an impeccable job in this movie. Even though the character demanded in and out imitation, he did it without any exaggeration. Mani's early life, his rise to stardom, and the inevitable death were safe in the hands of Rajamani, and he deserves a special round of applause for his effort.
Salim Kumar, as Kalabhavan Mani's father, excelled in his role. Honey Rose, as the heroine looked ravishing.
Final verdict
'Chalakkudikkaran Changathi' is a fine movie with a number of heart touching moments. If you are a fan of Kalabhavan Mani, then this is a movie which you should not miss in theaters.