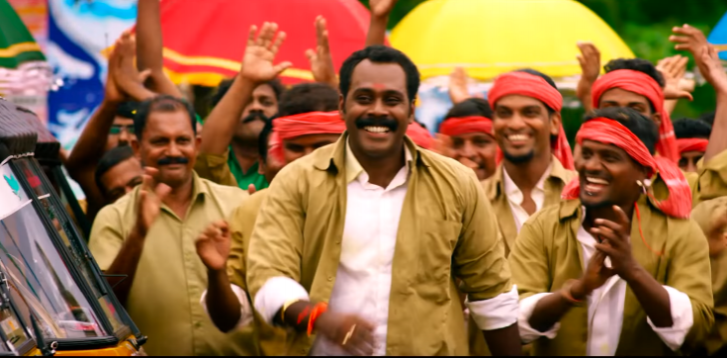 Director Vinayan's Malayalam movie Chalakkudikkaran Changathi featuring Rajamani and Honey Rose in the lead roles, has received positive reviews and ratings from the film critics.
Chalakkudikkaran Changathi is a biographical movie that is based on the life and the death of actor Kalabhavan Mani, who rose from his humble beginnings to be one of the most versatile artists in Malayalam cinema. The movie, which has been produced under the banner Vinayan Entertainments, has received a U certificate from the censor board and its runtime is 2.41 hours.
Performances: Rajamani, who has played Kalabhavan Mani, has delivered a brilliant performance, which is the highlight of Chalakkudikkaran Changathi. Honey Rose has done good job and her chemistry with the hero is good. Senthil, Ramesh Pisharody, Dharmajan Bolghatty, Salim Kumar, Joju George, Joy Mathem and Sunil Sukhada has done justice to their roles, which are among the attractions.
Technical: Chalakkudikkaran Changathi has good production values and Prakash Kutty's picturisation, Abhilash Viswanath's editing, Bijibal's songs and background score, Kumar Shanti's choreography and Suresh Kollam's art direction are the attractions on the technical front.
Chalakkudikkaran Changathi review live updates: We bring you some viewers' reaction on the film shared on Twitter. Continue to see audience's response.
The Times of India Rating: 3
It is Vinayan's finest film and a heartfelt tribute to the artiste who was most definitely a compatriot to every Chalakkudikkaran.
Manoramaonline verdict:
The movie is Vinayan's emotional attempt to reintroduce his late companion on silver-screen. The debutante hero handled the humble beginnings of Mani, his rise as a mimicry artiste and life as a superstar with gentleness and accuracy.
Watch Chalakkudikkaran Changathi official trailer here: