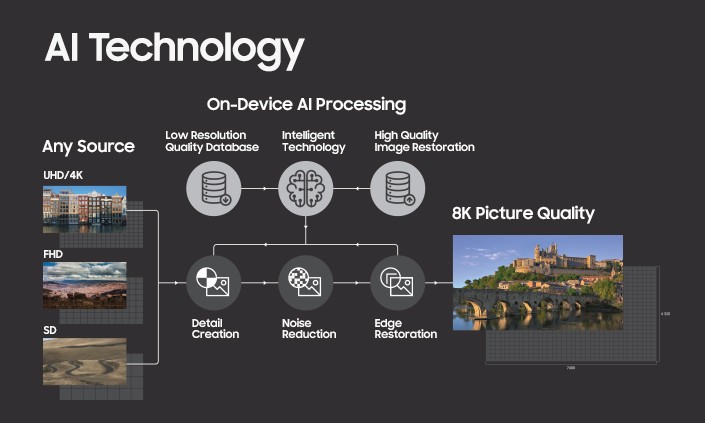 There are a variety of uses for artificial intelligence (AI) in tech, and companies are doing the best they can. Samsung is the latest to integrate AI into its new television, which will make low-resolution content a thing of the past.
Samsung's 85-inch Q9S QLED TV is the company's first commercial 8K television that leverages AI to upscale content to an incredible 7,680 x 4,320-pixel resolution. So if you have a traditional 4K or even HD content ready to be played on the massive Samsung Q9S television, the South Korean tech giant will convert it to 8K.
The biggest challenge when 4K was launched was the lack of a content ecosystem for it, which continues to be an issue even today as most TV stations fail to broadcast 4K content. But if Samsung's Q9S 8K television is capable of converting content from HD to 8K, then the biggest setback of 4K can be eliminated.
Easier said than done...
If 4K taught us anything, it's the fact that fetching content in such high resolutions is no child's play. When delivered, it was welcomed with wide open arms. Samsung's promise to upscale content requires a lot of heavy-lifting by the AI before 8K content is delivered to the viewers.
It's not simply a matter of multiplying the number of pixels: It is the art of filling the gaps that don't exist, Tech Radar noted. Since Samsung's Q9S uses AI, its algorithm will have to crawl its way up over time and individually understand what's missing in a low-res video to make it visually appealing in 8K.
But Samsung notes that its Q9S is equipped with a database that studies and analyses millions of images in advance to transform low-resolution content into high-resolution. The first step to converting any content into 8K is choosing the optimal filter and converting it into a high-res image.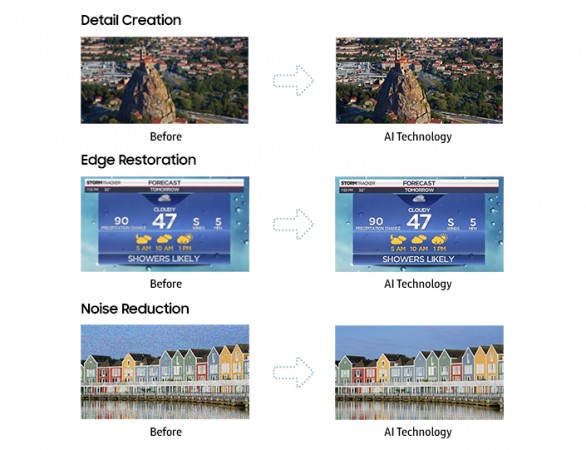 According to Samsung, the new TV processes the image 64 times to offer natural images in high-resolution without compromising gradation. The AI does detail-creation, edge-restoration and most importantly noise-reduction to deliver an ideal picture quality in 8K — the highest current standard for content.
There is more to this than meets the eye... LITERALLY!
If you think Samsung's Q9S is just enhancing the quality of the images in the picture like never before, that's just one side of the story.
Samsung's AI in the Q9S optimises sound in the TV depending on what you're watching. For instance, if you're watching a football game, the background cheers are amplified to add the extra element of excitement to the match. If you're viewing a concert (live or otherwise), the low-frequency sounds of the music might be highlighted to deliver richer audio, the company noted.
It's all sounds just too exciting to be missed. Samsung has already been given the CES 2018 Innovation Award, honouring outstanding design and engineering in consumer technology products for its 2018 QLED TV lineup.
Finally, Samsung has promised an 8K QLED TV lineup with AI-powered technology in 65-inch and larger screens to arrive in the second half of this year. So stay tuned for more.