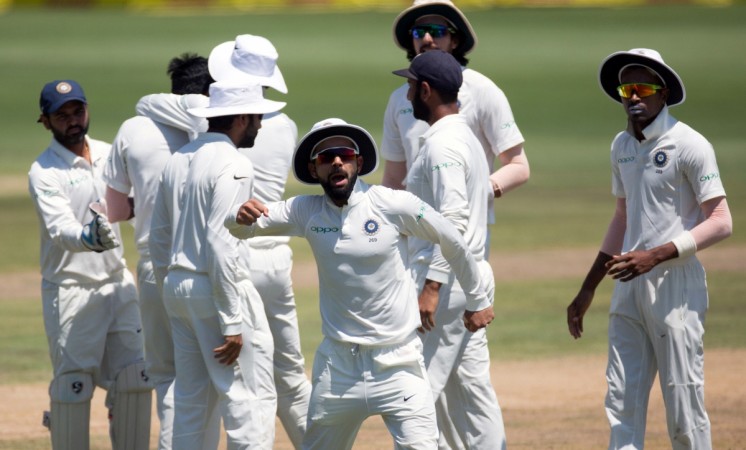 This is not good news. India captain Virat Kohli was today (January 16) fined 25 per cent of his match fee and received one demerit point for his "aggressive" actions during the third day's play of the ongoing second Test against South Africa in Centurion.
"India captain Virat Kohli has been fined 25 per cent of his match fee and received one demerit point for breaching Level 1 of the ICC Code of Conduct during the third day's play in the second Test against South Africa at Centurion on Monday," the International Cricket Council (ICC) said in a media statement on Tuesday.
Also read: SA-India series schedule, squads, live streaming info
"Kohli was found to have breached Article 2.1.1 of the ICC Code of Conduct for Players and Player Support Personnel, which relates to"conduct that is contrary to the spirit of the game."
"Monday's incident happened in the 25th over of South Africa's second innings when Kohli continued to complain to umpire Michael Gough about the ball being affected by a damp outfield following a rain delay, before throwing the ball into the ground in an aggressive manner," it added.
Television footage showed Kohli talking to the on-field umpires and later was seen heading into match referee Chris Broad's cabin and making his points in an animated manner. Head coach Ravi Shastri was also seen with the skipper.
Paceman Jasprit Bumrah, talking about the incident, had said yesterday, "The ball was swinging a little bit so the field being wet, both sides of the ball got wet so the ball doesn't swing anymore. We were just having a word with the umpire that the ball is wet so the ball won't swing anymore so we were having a chat about what could be done in that situation.
"It was not too frustrating, you are happy that the spell was going well so you are in good rhythm so you can come back tomorrow and do well again. It's okay. We wanted to carry on and we were doing as we were told to do."
Rain interrupted play in the final session yesterday. Only 10 overs were bowled due to rain and bad light. South Africa ended the day at 90/2 with an overall lead of 118. Earlier, Kohli had hit a superb 153.
After the day's play, Kohli pleaded guilty to the offence and accepted the sanction proposed by Broad. The charge was levelled by on-field umpires Michael Gough and Paul Reiffel, third umpire Richard Kettleborough and fourth umpire Allahudien Palekar.
Level 1 breaches carry a minimum penalty of an official reprimand, a maximum penalty of 50 per cent of a player's match fee, and one or two demerit points.
About demerit points
*When a player reaches four or more demerit points within a 24-month period, they are converted into suspension points and a player is banned
**Two suspension points equate to a ban from one Test or two ODIs or two T20Is, whatever comes first for the player
***Demerit Points to remain on a Player or Player Support Personnel's disciplinary record for a period of twenty-four (24) months from their imposition following which they will be expunged