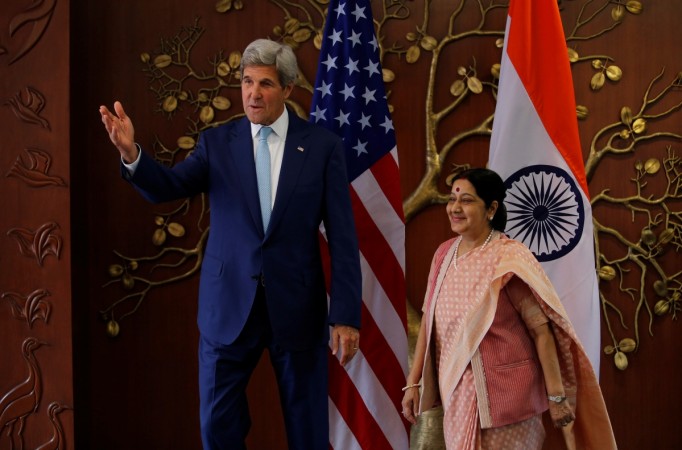 Almost two months after US Secretary of State John Kerry raised the issue of stopping foreign donors from funding Indian NGOs with Minister of External Affairs Sushma Swaraj, a US-based NGO, Compassion International (CI), has been allowed to hand out funds to 10 NGOs.
CI was put on the Centre's watch list on March 28 as the NGOs to which it was donating funds were involved in religious conversions. As it was in the prior referral category, it would have to go under scrutiny every time it disbursed funds.
Kerry had made a high-level request with Sushma Swaraj during his recent India visit. Swaraj then wrote to the Union Home Ministry to reconsider the matter.
"We are not removing Compassion International from our watch list; we are only allowing some NGOs to receive funds from them. Each application will be scrutinised before the money is disbursed to them," a senior home ministry official was quoted as saying by the Hindu.
The Colorado-based NGO sought permission to disburse Rs 400 crore as funds to around 250 NGOs this financial year, another home ministry official said. However, all the 250 NGOs are reportedly Christian. Even though the Christian advocacy group seeks to fund 250 NGOs, they have been permitted to fund only 10.
"We have done our investigations and found that several of them were using these funds to convert people to Christianity. Following this, we decided to place it under scrutiny," said the official.
As many as three US Congressmen and a Colorado senator had written to Prime Minister Narendra Modi saying that stopping the foreign funding to the NGOs is "crippling" their work.
The NDA government has led a crackdown on foreign funding for NGOs, cancelling Foreign Contribution Regulation Act (FCRA) licences of around 10,000 NGOs. They also placed 13 foreign donors under prior-permission category, the Hindu reported. Salafi preacher Zakir Naik's Islamic Research Foundation also comes under this category. At least six US-based NGOs are in the list.
Here's a list of foreign donors on the prior-permission category:
1.350.Org
2. Avaaz, USA
3. Bertha Foundation
4. BIC, USA
5. Caritas International
6. Catholic Organisation of Relief and Development Aids (CORDAID)
7. Climate Work Foundation (CWF), USA
8. Compassion International, USA
9. Dan Church Aid (DCA)
10. Danish Institute of Human Rights (DIHR)
11.Danish International Development Agency (DANIDA)
12. Family Federation for World Pease and Unification, South Korea
13. Greenpeace International
14. HIVOS, Netherlands
15. ICCO Stretegische Samenwerking (ICCO), Netherlands
16. Inter Church Pease Council – Pax Christi (IKV-PC), Netherlands
17. Mercy Corps, USA
18. National Endowment for Democracy (NED)
19. Sierra Club USA
20. World Movement of Democracy (WMD)
21. Open Society Foundation