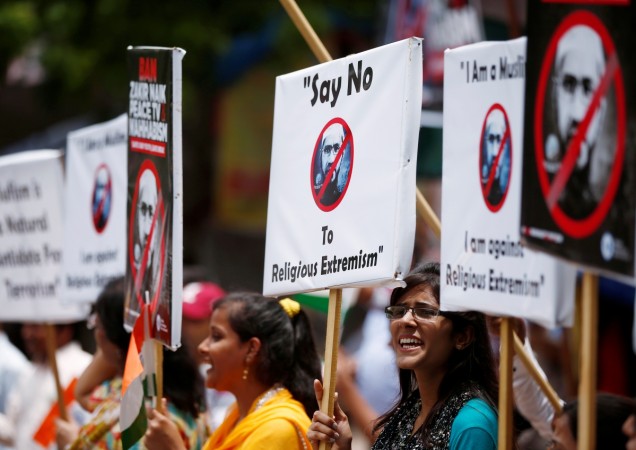 Four officials of the Union Home Ministry were suspended for renewing the foreign funding licence of Islamic Research Foundation (IRF), the NGO run by Salafi preacher Zakir Naik. The clearance caused the ministry embarrassment as IRF is under probe for being involved in unlawful activities.
The Foreign Contribution Regulation Act (FCRA) licence was renewed on Aug. 19 even as the Maharashtra government and the Centre is investigating Naik and the IRF. Naik and his organisation have been accused of promoting hatred between religious groups.
Among the four suspended officials is GK Dwivedi, the joint secretary in charge of foreigners division. While NDTV reported that the matter was an oversight, MHA officials said that an inquiry will be conducted to see if there was any "mala fide intention".
"The MHA has suspended four officers, including Dwivedi and three officers below him. A departmental inquiry is being ordered against him to find out if there was any mala fide intention behind renewal of registration of IRF under the Foreign Contribution Regulation Act, 2010 (FCRA). Action will be taken accordingly," Times of India quoted an MHA official as saying.
We're very clear that there should be smooth process of registration or renewal but not when there's a case pending. The action against the under secretaries and section officer was due to their negligence in clearing the renewal while a case is still pending," Kiren Rijiju, the Minister of State for Home Affairs, tweeted late on Thursday.
Naik's IRF grabbed attention after the perpetrators of the attack on Holey Artisan Bakery in Dhaka, Bangladesh said that they were inspired by his speeches to launch the attack. They had pledged allegiance to the Islamic State of Iraq and Syria (Isis). His organisation also came under the scanner in regard to the Kerala youth who are suspected of having left India to join Isis.
We had applied for renewal around two months back and in the third week of August we were intimated that FCRA licence of IRF has been renewed. It shows that the government has nothing against us," IRF spokesperson Aarif Malik was earlier quoted as saying by Hindustan Times.