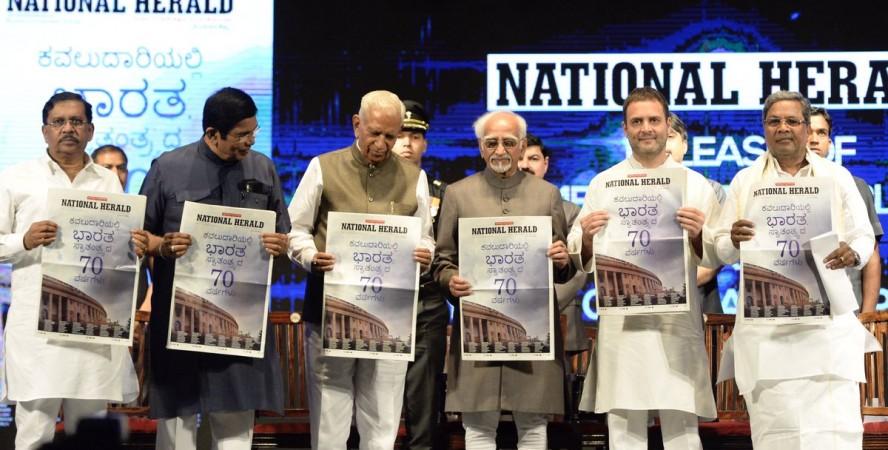 Congress vice-president Rahul Gandhi on Monday, June 12, said that the BJP-led Central government under Prime Minister Narendra Modi was "forcing everyone into silence." He was in Bengaluru, Karnataka, relaunching the National Herald — a newspaper founded by his great-grandfather and India's first Prime Minister Jawaharlal Nehru, and referred to by a top Congress leader on Monday as "Nehru's mouthpiece."
The Congress has been having a tough time in trying to project Rahul Gandhi as the leader who is slated to take over as party president — something that can happen as early as October. Rahul has recently tried to project himself as a leader of the poor and farmers. To that end, he tried to forward the farmers' agenda before the UP elections earlier this year and was also placed under preventive custody in Madhya Pradesh last Thursday.
At the National Herald relaunch, he told the audience about the arrest: "I asked why I was being stopped. Was there any law applied there? I was answered: 'I am being told to do so'." He then went on to add: "The Central government is forcing everyone into silence."
He also went on to speak against Modi, claiming that the Prime Minister's poll plank of development — on which he had ostensibly won several elections — had failed. "The passing mark in exams is usually 40. Modi has scored zero out of 100 when it comes to job creation," he said.
Rahul also said that the amount of money the Modi regime was putting into publicity should not be spent there at all because it is just the public's money that was being used to tom-tom the achievements of the Central government.
Rahul's new mouthpiece?
Perhaps publicity is one reason why the Congress has relaunched the National Herald. As Karnataka Pradesh Congress Committee (KPCC) president G Parameshwara put it: "National Herald was Nehru's mouthpiece and helped his messages reach the people. Thoughts he could not share as a politician were conveyed to the people through his opinion pieces in the National Herald."
National Herald can now be used as Rahul's mouthpiece or even the Congress' mouthpiece. This, even as Rahul himself told the newspaper's staff to let the daily "speak the truth," and also "criticise the Congress whenever you feel so."
However, one may not be surprised if it does turn into Rahul's and eventually the Congress' mouthpiece. After all, both Rahul and the Congress have been facing a tough road when it comes to criticising the BJP and its governments, especially due to the barrage of public service announcements made by the party and its regimes in states across the country.