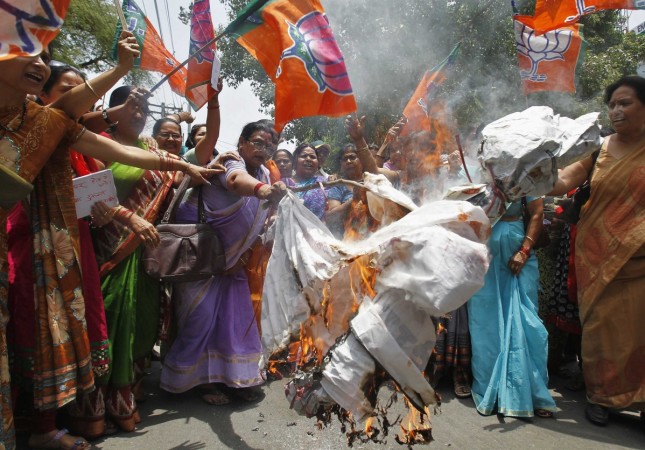 With the lawlessness in Uttar Pradesh receiving international attention for the incessant spate of crimes, the Ministry of Home Affairs of the central government has said it will monitor the situation in the state.
Home Minister Rajnath Singh on Monday tweeted that his ministry was concerned about the prevailing situation in UP.
The MHA is concerned over the prevailing 'Law and Order' situation in Uttar Pradesh. We are closely monitoring the situation in UP.

— Rajnath Singh (@BJPRajnathSingh) June 16, 2014
Minister of State for Home Kiren Rijiju also expressed concern over the law and order situation in the state. "This should not be taken as some politics being done by us because their government is of a different party. Whatever the government — whether of our party or of some other party, everybody is worried if the law and order is not good," PTI quoted Rijiju.
Fresh crimes are being reported from the state every day, including brutal rapes as well as killings of Bharatiya Janata Party leaders. The Badaun rape case, where two teenage girls were brutally raped and hanged from a tree was met with international outrage, and was even followed by similar incidents in the state.
Three BJP leaders have also been murdered in the state over the last two weeks, and on Monday, the state saw violent protests against the killings of two police constables. In separate incidents in the state, a labourer was burned to death while a French woman was reportedly molested.
The state opposition as well as the National Commission for Women had demanded the resignation of the Samajwadi Party government for its failure to check the increasing crimes.
Singh had earlier asked the Uttar Pradesh police to improve security in the state, during his meeting with state DGP AL Banerjee last week.
The Home Minister had raised the issue of the killings of BJP leaders in the state as well as crimes against women.
Rijiju had also earlier iterated his concern about the state of affairs in Uttar Pradesh, while another BJP leader Mukthar Abbas Naqvi had said that the Akhilesh Yadav-led government had "failed" in the state. The Congress had also criticized the Uttar Pradesh government for the law and order situation.
However, the ruling Samajwadi Party continues to remain defiant, and on Monday, it said that the media's targeting of the party was a "conspiracy by BJP", reported PTI.
"The media is selectively targeting the SP government in the state. Why does the media have so much interest in the state. The incidents in Madhya Pradesh, Delhi, Gujarat are not highlighted. It's a well-planned conspiracy sponsored by either Centre or BJP against the state government," SP National General Secretary Naresh Agarwal retorted.