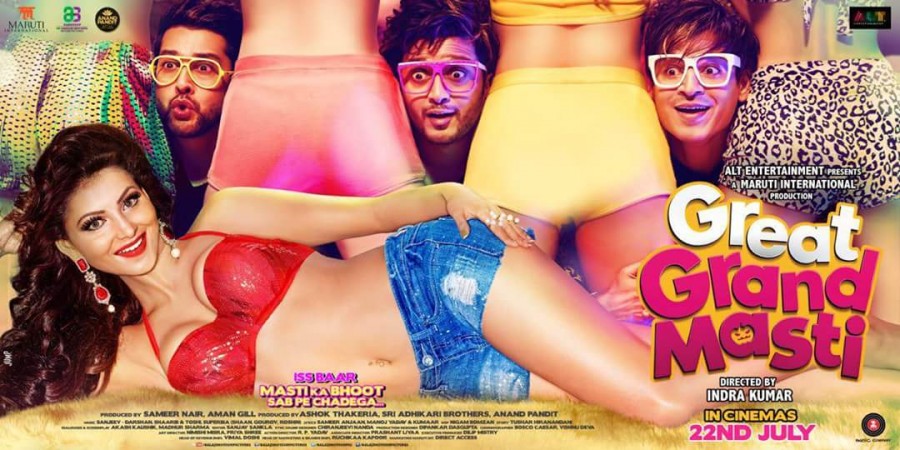 Movie leaks have become a serious issue in the film industry. Censor copies of several movies have made its way online on movie downloading website of late and the latest film to get leaked before its release is the adult comedy "Great Grand Masti."
A censor copy of Riteish Deshmukh, Vivek Oberoi and Aftab Shivdasani-starrer "Great Grand Masti" has been leaked online two weeks before its scheduled theatrical release. The movie print has censor board copy written on it reportedly. The censor copy of the 2 hours 14 minutes' movie was leaked on Monday on piracy sites.
According to reports, Ministry of Information and Broadcasting said that they looking into the matter and concrete steps will be taken. Earlier, censor copy of Shahid Kapoor-Alia Bhatt starrer "Udta Punjab" was leaked online just before the release.
"Great Grand Masti," is produced by Ekta Kapoor and directed by Indra Kumar, is slated to release on July 22. The film is the third instalment of the success "Masti" series. While Riteish, Vivek and Aftab have been a part of the all the three instalments, Urvashi Rautela is the newest addition to the series.
Meanwhile, Bollywood celebrities and film fraternity members have tweeted slamming the leak of "Great Grand Masti." Several filmmakers, entertainment journalists and celebrities, who are furious with the leak, tweeted urging people to watch the film in theatres.
Here is what the film fraternity have said:
Sanjay Gupta: NO NO NO. This leaking of Censor Copies of unreleased films HAS TO STOP. THIS IS NO JOKE. DO THEY EVEN REALISE WHAT ALL IS AT STAKE?
Sarita Tanwar: Now Great Grand Masti copy leaked. Weeks before its release. This is crazy!
Faridoon Shahryar: So #GreatGrandMasti leaked online,available on torrent..I've seen the link..it is disgusting..after paying hefty tax,such lack of Security!! I & B ministry said that concrete steps will be taken as per Shyam Benegal committee..Mr Nihalani shud have quit by now..No Action taken!!
Sreedhar Pillai: Stop this piracy! Shocked, censor copy of adult comedy #GreatGrandMasti scheduled 4 July 22 rel has been leaked online just like #UdtaPunjab