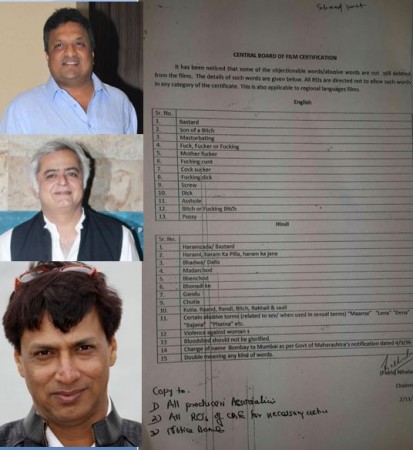 Central Board of Film Certification's (CBFC) new guidelines have ruffled several filmmakers, including the members of the censor board.
Last week, the newly appointed chairman of CBFC Pahlaj Nihalani issued a list of cuss words that cannot be used in the films, "in any category of the certificate."
"It has been noticed that some of the objectionable words/abusive words are not still deleted from the films. The details of such words are given below. All ROs are directed not to allow such words in any category of the certificate. This is also applicable to regional languages films," CBFC notice read.
The circular, which listed 36 Hindi and English cuss words, went viral on social media last week leading to backlash from several members of the film industry.
"The CBFC is free to do what it wishes, but there is no lock, no gate, no bolt that it can set upon the freedom of our minds. This is a battle which they will never win because this is India, not China or Saudi Arabia," filmmaker Mahesh Bhatt told The Times of India.
"Language is one way of showing the contrast between a bad and a good guy and his transformation if it happens. It's also a reflection of our society," filmmaker Madhur Bhandarkar said.
Hansal Mehta: Dear Indian government, If you decide what I should make and what my characters can say then why don't you also fund my films? Dear censor board, go screw yourself.
Nikhil Advani: So basically @anuragkashyap72 can never make a film in India again. #EpicFail #CBFC #CensorBoardMurderingIndianFilm
Rahul Dholakia: #CBFC morality code ! Seriously ??? What next ? People to remove footwear outside theaters ? Nariyals instead of popcorn ? Jokers !
Sanjay Gupta: BJP at centre - SWACHHA BHARAT ABHIYAAN. Censor Board - SWACHHA CINEMA ABHIYAAN. What next???
Ashoke Pandit: The list of words 'not to be used in films' issued by the Chairperson is against the freedom & creative liberty of a filmmaker. #CBFC... Does the #ChairpersonCBFC endorse other bad words which are not in this list can be used in the films.?#Antifilmmakers
Paresh Rawal: Have you heard a new joke ? Read CBFC guideline !! Looks like all the film makers are forced to make films for AASTHA channel!!!
Devdutt Pattanaik: No films on Ramayana and Mahabharata now: censor board forbids depicting bloodshed and violence against women.