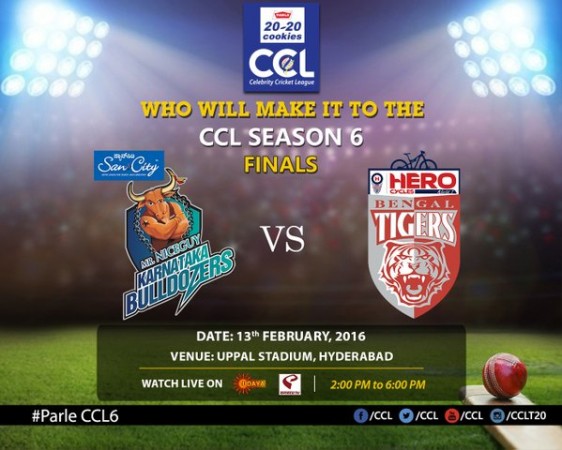 Two-time champions Karnataka Bulldozers will take on Bengal Tigers in the first semi-final match of Celebrity Cricket League sixth season (CCL 6), Saturday, Feb 13. The match will be played at Rajiv Gandhi International Stadium, Uppal, Hyderabad.
Click Here to Watch Karnataka Bulldozers vs Telugu Warriors Final | Live Score Card | Match Photos
The Sandalwood team entered the semi-finals after defeating Chennai Rhinos and Telugu Warriors. Karnataka Bulldozers beat the Kollywood team at M Chinnaswamy Stadium, Bangalore, by 83 runs.
But Karnataka Bulldozers lost their crucial match against Kerala Strikers by six wickets. This created a do-or-die situation for the Sandalwood team in the final league match against Telugu Warriors. But Sudeep's men managed to clinch the thriller against Akhil's team, winning by five runs.
On the other hand, Bengal Tigers lost its opening match to Bhojpuri Dabanggs by 68 runs. But it made a good comeback in the second match, winning by 32 runs against Mumbai Heroes.
In its third match, Bengal Tigers defeated Punjab De Sher by 24 runs in a high-scoring game. This victory ensured them a place in the semi-final stage.
The match between Karnataka Bulldozers and Bengal Tigers will be aired on Udaya TV and Kolkata TV. Here we bring to you live score updates of the match:
Karnataka Bulldozers beat Bengal Tigers by seven wickets to enter the CCL 6 final. The fantastic knocks by Dhruv and Rajeev helped the Sandalwood team to win the match with ease. After winning the toss, the Bengal team decided to bat first.

Bengal Tigers started off well but failed to keep up the good momentum. In the end, the Bengal team scored 168 runs. The Sandalwood team bowled well and then comfortably chased the target.
Second Innings Live Update:
Karnataka Bulldozers
Runs
Balls
Pradeep
run out (UDAY)
26
22
Rahul
c Jisshu b Vievek
0
4
D Sharma
not out
56
45
H Rajeev
c Jisshu b Sandy
58
32
J Karthik
not out
5
5
Sudeep
T Chandra
Prasanna
S Rao
Mahesh
Prathap
Total: 170-3
Extras
25
Bowling Card
Name
Overs
Dots
Runs
Wickets
Economy
Vievek
3
9
25
1
8.33
Manty
3
5
31
0
10.33
RD
2
3
16
0
8.00
Jisshu
4
9
29
0
7.25
Sandy
4
8
46
1
11.50
Mohan
1
2
9
0
9.00
Uday
1
3
13
0
13.00
Karnataka Bulldozers win the match by 7 wickets.
A wide and four. 5 Runs from that ball. 7 required from 11 balls.
18 required from 12 balls.
Jayaram Karthik is the new man into the crease.
Rajeev is gone. He has done the damage. He scored: 58 (32). KB needs 12 from 19 balls.
Rajeev scores 50 from 28 balls. It is a matching-winning knock.
The Sandalwood team needs 21 from 4 overs.
13 runs come from that over. Score: 148-2 in 16 overs.
Karnataka Bulldozers need 34 runs in 30 balls.
The Sandalwood team scores 16 runs come from 15th over. Score: 135-2.
Sharma gets a life. A catch dropped near the boundary line.
Rajvee hits his second six. Sandalwood needs 50 from 36 balls. Score: 119-2 in 14 overs.
Dhruv reaches 50 in 38 balls with 7 fours and 1 six. His job is not complete yet.
A good over from Bengal Tigers. Just 4 runs from it. Score: 110/1 in 13 overs.
63 required from 48 balls for Karnataka Bulldozers.
Rajeev is slowly taking away the match from Bengal Tigers. 10 runs come from that over. Score: 106-2 in 12 overs.
Rajeev hits a six. Score: 96-2 in 11 overs.
The Sandalwood team needs 81 from 60 balls.
11 runs come from that over. Karnataka Bulldozers are at 88 for the loss of two wickets after 10 overs.
Rajeev is the new batsman. Score: 77-2 in 9 overs.
Pradeep is run out for 26 (22). It's a big blow for Karnataka. Score: 73/2.
After eight overs, the Sandalwood team is at 67-1. 102 runs required from 72 balls.
Pradeep: 21 (17), Dhruv 24 (19). One among the two need to play a big knock in order to comfortably win the match. Score: 62-1 in 7 overs.
After the first blow, Dhruv and Pradeep have batted well to cross the 50-mark.
The Sandalwood team is on fire. End of the power play. Score: 53/1.
14 runs come from fifth over. 43-1.
11 runs come from that over. Score: 29-4.
Karnataka Bulldozers require 151 from 102 balls.
Pradeep hits a boundary. 6 runs come from that over. 18-1.
Dhruva Sharma is the new batsman. 7 runs scored in second over. 12/1.
Out. Early blow for the Sandalwood team. Rahul is out for duck. Score: 5/1.
What a way to start the innings. Pradeep hits a four in the first ball.
Pradeep and Rahul open the innings for Karnataka Bulldozers.
Bengal Tigers scored 168 runs from 20 overs and lost all the wickets against Karnataka Bulldozers. At one point of time, it looked like they will cross 180-mark. Yusuf. who scored a brilliant half century, and Sandy's partnership had brought hopes in their team that the Bengal team would put huge score on board.

But the Sandalwood team made a good comeback to the game by picking up crucial wickets towards the end. T Chandra picked 4 wickets in 2 overs and Rao took 3 wickets for Karnataka Bulldozers.
Live Update of First Innings
Bengal Tigers
Runs
Balls
Joy
b Rao
20
12
Indrasish
c Rajeev b Rao
18
17
Suman
b Rao
6
6
Yusuf
c Sudeep b Karthik
51
29
Jisshu
c Sharma b Mahesh
19
17
Sandy
b Chandra
24
24
RD
c Mahesh b Chandra
0
2
Uday
c Pradeep b Chandra
5
5
Vievek
run out (Sudeep)
4
6
Manty
c & b Chandra
0
1
Mohan
not out
1
2
Total: 168
Extras
20
Bowling Card
Name
Overs
Dots
Runs
Wickets
Economy
J Karthik
3
7
42
1
14.00
Pradeep
3
7
24
0
8.00
S Rao
4
12
26
3
6.50
D Sharma
2
6
22
0
11.00
Mahesh
4
10
24
1
6.00
Prasanna
2
3
16
0
8.00
T Chandra
2
6
12
4
6.00
What a bowling from Karnataka Bulldozers towards the end. They give only three runs in the last over. Score: 168 for all out.
Bengal Tigers will be happy to reach around 180 runs. 6 Balls to go.
Tarun picks three wickets in the over. The Bengal team is struggling at 165-9 in 19 overs.
Sandy is out for 24 (24). Score: 163-7 in 18.2 overs.
A good over from Mahesh. Only 5 runs come from that over. Score: 159-6 in 18 overs.
The Sandalwood team has made good comeback to the game. Score: 154-6 in 17 overs.
Karnataka Bulldozers pick its sixth wicket in the form of RD. Score: 149-6 in 16.3.
Bengal Tigers score 21 runs from 16th over. Score: 148-5.
Yusuf reaches 50 from 28 balls. He is out after scoring a half century. He was a danger man and the Karnataka team would be breathing a sigh of relief.
15 runs come from the first three balls from Karthik's over.
13 runs come from that over. Score: 127-4. Sandy: 13 (14) Yusuf: 37 (25).
The Bengal team should be aiming 180+ runs at this stage.
Yusuf on a roll. He hits a six. 17 runs come from that over. Score: 114-4 in 14 overs.
Bengal Tigers score 5 runs from that over. Score: 100-4 in 13 overs. While the first 50 came of 37 balls, the second came from 41 balls.
Sandy is the new batsman. Score: 95-4 in 12 overs.
Captain is Jisshu is gone for 19 (17). It is a big blow for Bengal.
Jisshu hits a six. 11 runs come from 11th over. Score: 90-3.
Two boundaries come from Sunil's over. Score: 79-3 in 10 overs.
It is a good over from Mahesh as only 1 run score from this over. Score: 70-3 in 9 overs.
6 runs come from 8th over. Score: 69-3.
Jisshu opens his account with a boundary followed by a six. Score: 63-3 in 7 overs.
Sudeep seems to be having some fitness issues and it is not a good sign for Karnataka Bulldozers.
Jisshu and Yusuf are the new batsmen. Score: 47-3 in 6 overs.
Sunil Rao is on a hat-trick. Oh, he misses it.
One more wicket gone in the form of Suman. Bengal Tigers in trouble. Score: 47-3.
Karnataka Bulldozers pick second wicket. Indrasish is out for 18 (17).
After 5 overs, the Bengal team has scored 42-1.
Bengal Tigers putting pressure on Karnataka Bulldozers. Boundaries are coming easily. Dhruva Sharma will do the fifth over.
Suman ends the fourth over with a boundary. Score: 36-1 in 4 overs.
Suman comes to the crease. Score: 30-1 in 3.2 overs.
Sunil Rao is brought into the attack and he picks the first wicket. Joy is gone for 20 from 12 balls.
One more six come from Karthik's over. It is a good over for Bengal Tigers. Score: 29/0 in 3 overs.
Karthik into his second over. First six of the match comes from Joy
7 runs come from the second over. Score: 12/0.
Pradeep is into the attack. First boundary comes for Bengal Tigers.
Bengal Tigers score 5 runs from 1st over.
Joy and Indrasish open the innings for Bengal Tigers. Karthik is given the ball.
Bengal Tigers won the toss and decided to bat first.
Karnataka Bulldozers squad:
Sudeep, Darshan, Rajeev, Tharun Chandra, Tarun Sudhir, Dhruv, Vishwas, Pradeep, Rahul, Chetan, Dharma, Sunil Rao, Jayram Karthik, Abhimanyu, Mahesh, Rajesh and Mayur Patel.
Bengal Tigers squad:
Jisshu, Dev, Rahul, Amitabh, Joy, Suman, Uday, Vinaayak, SRV, Indrasish, Yousuf, Debraj, Raja, Mohan, Sandy and Saugata.