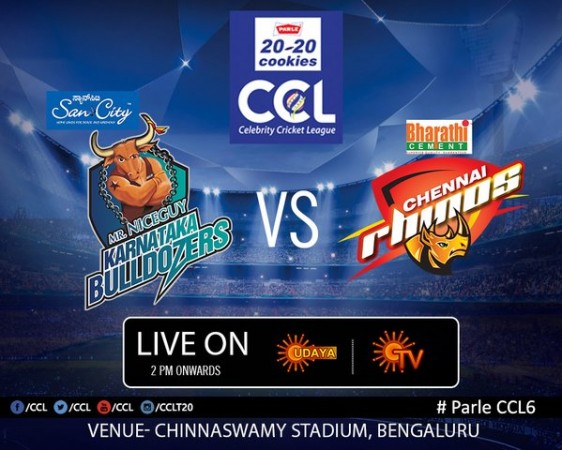 The Celebrity Cricket League (CCL 6) 2016 has taken off with a bang on Saturday, 23 January. In the first two matches, Mumbai Heroes and Telugu Warriors have emerged victorious by defeating Punjab De Sher and Kerala Strikers, respectively.
Live Scorecard of Karnataka Bulldozers vs Chennai Rhinos
On Sunday, 24 January, Karnataka Bulldozers will be taking on Chennai Rhinos and Bhojpuri Dabanggs will clash with Bengal Tigers. Both the matches will be played at Chinnaswamy Stadium, Bengaluru. Find the squads, timings and other information about the matches below:
First Match: Chennai Rhinos vs Karnataka Bulldozers
Timings: 2pm-6.30pm.
TV Channels: Sun TV, Udaya TV
Karnataka Bulldozers squad:
Sudeep, Darshan, Rajeev, Tharun Chandra, Tarun Sudhir, Dhruv, Vishwas, Pradeep, Rahul, Chetan, Dharma, Sunil Rao, Jayram Karthik, Abhimanyu, Mahesh, Rajesh and Mayur Patel.
Chennai Rhinos squad:
Arya, Jeeva, Vishnu, Vikranth, Ramana, Prithvi, Shanthnu, Ashok, Balaji, Sharan, Sanjay, Bharath, Bose, Shaam, and Uday.
Second Match: Bhojpuri Dabanggs vs Bengal Tigers
Timings: 7pm-11pm
TV Channels: Big Magic Ganga
Bhojpuri Dabanggs squad
Manoj Tiwari, Ravi Kishan, Dinesh Lal Yadav, Ram Pravesh Yadav, Uday Tiwari, Ajhoy Sharma, Vikranth SIngh, Aditya Ojha, Prakash Jais, Ayaz Khan, Shailesh Sinha, Vaibhav Rai, Asgar Rashid Khan, Vikas Singh, Akbar Naqvi, Gajender Pratap Dwivedi, Jay Prakash Yadav, Raj Chouhan, Pawan Singh, Bobby Singh, Pradeep Pandey and Yash Kumar.
Bengal Tigers squad:
Jisshu, Dev, Rahul, Amitabh, Joy, Suman, Uday, Vinaayak, SRV, Indrasish, Yousuf, Debraj, Raja, Mohan, Sandy and Saugata.
Watch Live Streaming of the Matches Online Below