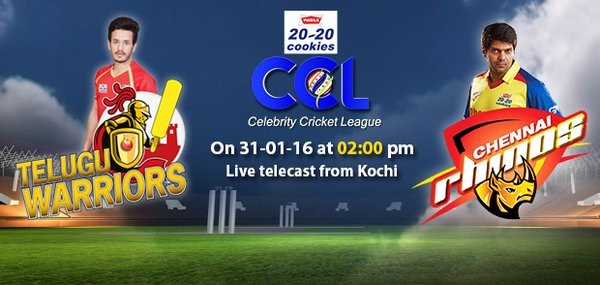 After Bengaluru and Ahmedabad, Celebrity Cricket League (CCL) 6 has shifted to Kochi. The Kerala audience will witness two matches played by all four South Indian teams on Sunday, 3 January at Nehru Stadium.
Live Score Card of Karnataka Bulldozers vs Kerala Strikers
In the first match of the day, Chennai Rhinos will take on defending champions Telugu Warriors. While the Kollywood team had lost their first match in this season, the Tollywood team had emerged victorious in their opening encounter.
Kerala Strikers will clash with Karnataka Bulldozers on their home ground in the second match. The Mollywood team requires a win to stay in the tournament whereas the Sandalwood team will be hoping to enter the semi-final by beating the Malayalam team.
Here are the squads, timings and other information about the matches:
First Match: Chennai Rhinos vs Telugu Warriors
Timings: 2-6 pm
TV Channels: Sun TV & Gemini TV
Chennai Rhinos squad:
Arya, Jeeva, Vishnu, Vikranth, Ramana, Prithvi, Shanthnu, Ashok, Balaji, Sharan, Sanjay, Bharath, Bose, Shaam, and Uday.
Telugu Warriors Squad:
Akhil Akkineni, Aadarsh, Nanda Kishore, Nikhil, Raghu, Sachin Joshi, Samrat, Srikanth, Taraka Ratna, Tarun, Vishwa, Prince, Sushanth, Dharam and Khayyum.
Second Match: Karnataka Bulldozers vs Kerala Strikers
Timings: 7-11 pm
TV Channels: Udaya TV & Surya TV
Karnataka Bulldozers squad:
Sudeep, Darshan, Rajeev, Tharun Chandra, Tarun Sudhir, Dhruv, Vishwas, Pradeep, Rahul, Chetan, Dharma, Sunil Rao, Jayram Karthik, Abhimanyu, Mahesh, Rajesh and Mayur Patel.
Kerala Strikers
Mohan Lal, Asif Ali, Unni Mukundan, Rajeev Pillai, Bineesh Kodiyeri, Manikuttan, Arjun Nandakumar, Manty, Vinu Mohan, Suresh Nair, Prajodh Kalabavan and Riyaz Khan.