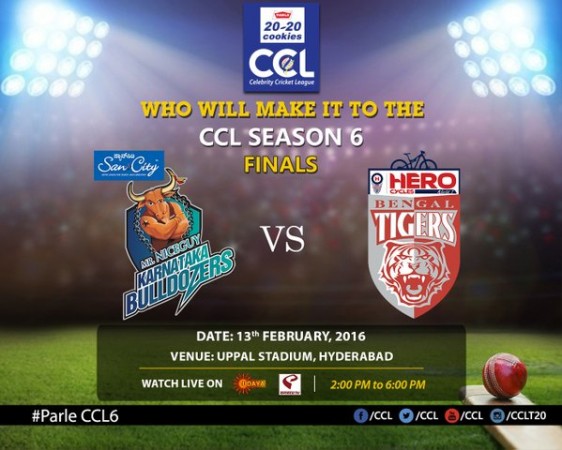 The Celebrity Cricket League (CCL) 6 has reached its next level, with four top teams from two groups making it to the semi finals. While Karnataka Bulldozers will clash with Bengal Tigers, Telugu Warriors will lock horns with Bhojpuri Dabanggs in the knock out stage. The matches will be played at the Rajiv Gandhi International Stadium, Uppal, Hyderabad.
Click Here to Watch Karnataka Bulldozers vs Telugu Warriors Final | Live Score Card | Match Photos
Both Karnataka Bulldozers and Bengal Tigers won two matches in the league stage and have performed well to enter the semi-final stage. Hence, it is quite difficult to say who is the clear favourite to win the match and enter the final.
When it comes to Telugu Warriors versus Bhojpuri Dabanggs, the Bhojpuri team has come out with flying colours by winning all the matches in the league stage, thereby topping the points table in its group. So, they start as a favourite to win the clash. Nonetheless, the Tollywood team cannot be taken lightly as the match is played at its home ground.
Find the squads, timings and other information about the matches below:
First Match: Karnataka Bulldozers vs Bengal Tigers
Timings: 2-6 p.m.
TV Channels: Udaya TV and Kolkata TV
Karnataka Bulldozers squad:
Sudeep, Darshan, Rajeev, Tharun Chandra, Tarun Sudhir, Dhruv, Vishwas, Pradeep, Rahul, Chetan, Dharma, Sunil Rao, Jayram Karthik, Abhimanyu, Mahesh, Rajesh and Mayur Patel.
Bengal Tigers squad:
Jisshu, Dev, Rahul, Amitabh, Joy, Suman, Uday, Vinaayak, SRV, Indrasish, Yousuf, Debraj, Raja, Mohan, Sandy and Saugata.
Second Match: Telugu Warriors vs Bhojpuri Dabanggs
Timings: 7-11 p.m.
TV Channels: Gemini TV and Big Magic Ganga
Bhojpuri Dabanggs squad
Manoj Tiwari, Ravi Kishan, Dinesh Lal Yadav, Ram Pravesh Yadav, Uday Tiwari, Ajhoy Sharma, Vikranth SIngh, Aditya Ojha, Prakash Jais, Ayaz Khan, Shailesh Sinha, Vaibhav Rai, Asgar Rashid Khan, Vikas Singh, Akbar Naqvi, Gajender Pratap Dwivedi, Jay Prakash Yadav, Raj Chouhan, Pawan Singh, Bobby Singh, Pradeep Pandey and Yash Kumar.
Telugu Warriors Squad:
Akhil Akkineni, Aadarsh, Nanda Kishore, Nikhil, Raghu, Sachin Joshi, Samrat, Srikanth, Taraka Ratna, Tarun, Vishwa, Prince, Sushanth, Dharam and Khayyum.
Live Streaming:
Watch live-streaming of the matches here: