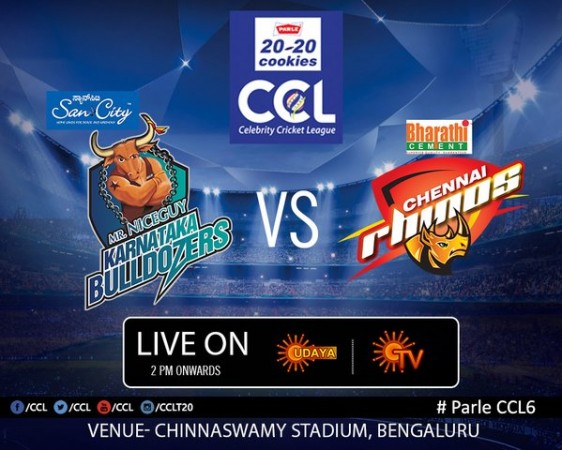 Chennai Rhinos will face arch-rivals Karnataka Bulldozers in their first match of Celebrity Cricket League (CCL 6) on Sunday, 24 January, at Chinnaswamy Stadium, Bengaluru.
Watch Karnataka Bulldozers vs Chennai Rhinos Match Live Online
Karnataka Bulldozers are headed by Sudeep, while Arya has taken over the responsibility of captaining Chennai Rhinos from Jeeva this time. Both teams have been part of the tournament from the inaugural season in 2011 and have played well.
So far, they have come face to face six times. While Chennai Rhinos have won four times, Karnataka Bulldozers have emerged victorious only once, with one match producing no result.
We bring you live updates of the match here:
Karnataka Bulldozers has beaten Chennai Rhinos by 83 runs. The Sandalwood team dominated the complete match, first with their batting and then with bowling and fielding. Dhruv and Rajeev's performance helped them put a huge total of 211 in 20 overs. Dhruv declared the Man of the Match for his allrounder performance.
Chennai Rhinos Batting Card
Runs
Balls
Ramana
C Prathap b Sharma
5
14
Vikranth
c Rajeev b Sharma
18
8
Vishnu
c & b Prasanna
6
16
Shantanu
b Sharma
4
6
Prithvi
b Rao
10
9
Ashok
c Sharma b Mahesh
13
14
Kalaiyarasan
b Mahesh
42
28
Sharan
lbw b Mahesh
0
3
Aarya
st Sudeep b Rao
1
5
Shaam
not out
8
11
Bharath
not out
0
0
Extras
21
Total
128-9
Karnataka Bulldozers Bowling Card
Name
Overs
Dots
Runs
Wickets
Economy
J Karthik
4
11
28
0
7.00
Pradeep
2
6
140
0
7.00
D Sharma
2
9
11
3
5.50
S Rao
4
11
19
2
4.75
Prasanna
2
6
15
1
7.50
Mahesh
3
8
18
3
6.00
T Chandra
2
4
16
0
8.00
Second Innings:
The last man refuses to come to bat due to injury. Hence, Karnataka Bulldozers wins the match by 83 runs.
Kalaiyarasan departs for 42.
Kalaiyarasan gives some relief to the Chennai team with a few boundaries. 12 runs comes from that over. Score: 120/8 in 18 overs.
Chennai Rhinos score stands at 108/8 after 17 overs. The team requires 104 from 18 balls.
CR Score: 102/8 in 16 overs.
CR score: 98/8 in 15 overs.
The Kollywood team loses its eigth wicket. Score: 88/8 in 14 overs.
Second wicket in the over. Chennai struggling at 85/7.
Yet another blow for Chennai Rhinos. They lose sixth wicket. Ashok departs. 85/6.
Kalaiyarasan and Ashok are in the crease. 11 runs come from the latest over. Score:85/5 in 12 overs.
The Kollywood team scores 74/5 in 11 overs. Chennai Rhinos require 138 from 54 balls.
Chennai Rhinos in deep trouble. Run rate is increasing. Score: 60/4 in 9 overs.
Sunil Rao picks the wicket of Prithvi 10 (9): Score: 52/4 in 7.4 overs.
The Kollywood team is finding it difficult to score runs. Score: 50/3 in 7 overs.
After six overs, Chennai Rhinos has scored 48/3.
Shantanu and Vishnu are in the crease. Score: 33/2 in 4 overs.
Both the openers are gone! Dhruv picks his second wicket in the over. Ramana is out for 5(14).
Chennai Rhinos loses its first wicket in the form of Vikranth. Dhruv takes the wicket.
12 runs come from the third over. Score: 30 for no loss.
Vikranth and Ramanna taking their time to settle. 18/0 in 2 overs.
Chennai Rhinos score 10 runs in first over. Jayam Karthik is given the bowl. He starts off with a wide. Vikranth and Ramana are in the crease.
Chennai Rhinos won the toss and captain Arya has decided to field first. But their decision seems like backfired as Karnataka Bulldozers dominated their bowlers. The Sandalwood team with some good contributions from Dhruv and Rajeev managed to put 211 runs on board. The Chennai team's bowling failed badly and the bowlers struggled as they gave away too many extras.
Karnataka Bulldozer Batting Card
Runs
Balls
Pradeep
C Kalaiyarasan b Vikranth
12
13
Rahul
C Bharath b Vishnu
39
27
D Sharma
B Shaam
61
38
H Rajeev
B Shaam B Ashok
40
12
Karthik
C Shantanu B Shaam
2
8
Prathap
run out (Shantanu)
19
11
Sudeep
not out
10
7
Mahesh
not out
5
3
T Chandra
Prasanna
S Rao
Extras
21
Total
211-6
First Innings:
Karnataka Bulldozers scores 211-6 in 20 overs.
13 runs come from 19th over. 198/5 in 19 overs.
185/5 in 18 overs. Sudeep gets a life after a catch was dropped.
Captain Sudeep is the new man into the crease. By the end of 17 overs, KB total stands at 176-5. Dhruv is out after hitting back-to-back boundaries. He scored 61 from 38 balls. KB 174/5.
Karthik is gone. Prathap comes to the crease. KB 166/4.
KB: 166/3 by the end of 16 overs.
Dhruv reaches 50 in 33 balls. KB 162/3 in 15.3 overs.
Karthik is the new man into the crease. 152/3 in 15 overs.
Rajeev is gone. He goes for 40 from 12 balls. But he has already done the damage. 141/3 in 13.3 overs.
One more big over for KB. 16 runs come from 13th over. Rajeev is at 40 from 11 balls. KB 141/2.
Dhruv has scored 30 in 24 balls and Rajeev has scored 25 in just 7 balls.
Rajeev continues to attack Chennai Rhinos bowlers. 22 runs in one over. KB reaches 125/2 in 12 overs.
Rajeev is the new man into the crease. He hits two fours straightaway. 100 comes for KB. 103/1 in 11 overs.
Rahul's stunning innings comes to an end. He scores 39 from 27 balls. Vishnu picks his first wicket.
KB scores 21 runs in 10th over. 91/1.
Two good overs bowled by Chennai Rhinos. 74/1 in 9 overs.
By the end of 8th over, Karnataka has scored 70-1.
Running between the wickets has been good so far. Karnataka team could only six runs. 66-1 im 7 overs.
Rahul is on fire. He reaches 35 in 19 balls. The Sandalwood team crosses the 50-mark. 60-1 by the end of sixth over.
Chennai Rhinos bowlers are struggling to get their line and lengths. Too much of wides in the first few overs.
Karnataka Bulldozers off to a good start as they score 41 in five overs for the loss of one wicket. Dhruv and Rahul are in the crease.
Karnataka Bulldozers score 10 runs in first over. They are off to a good start.
Karnataka Bulldozers squad:
Sudeep, Darshan, Rajeev, Tharun Chandra, Tarun Sudhir, Dhruv, Vishwas, Pradeep, Rahul, Chetan, Dharma, Sunil Rao, Jayram Karthik, Abhimanyu, Mahesh, Rajesh and Mayur Patel.
Chennai Rhinos squad:
Arya, Jeeva, Vishnu, Vikranth, Ramana, Prithvi, Shanthnu, Ashok, Balaji, Sharan, Sanjay, Bharath, Bose, Shaam, and Uday.