Indian cricketer Hardik Pandya renewed his vows with his wife Natasha Stankovic in an intimate ceremony in Udaipur, Rajasthan. The couple first tied the knot on May 31, 2020. It was a court marriage owing to the COVID pandemic.
The couple had already decided to remarry following all the customs and traditions and on Valentine's Day February 14, the couple got married to each other in a Christian ceremony in presence of their friends and family.

Hardik and Natasha renew their vows on V'day
On Monday, Hardik, Natasha, their son Agastya Pandya, and other family members such as cricketer Krunal Pandya and his wife arrived in Udaipur.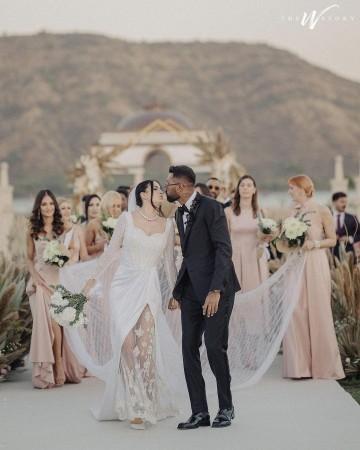 The duo had a white wedding and shared a slew of pictures on their Instagram handle. The bride Natasha looks resplendent in a beautiful white dress with lace details and she accompanied it with a pearl necklace and her hair was tied in a bun. While groom Hardik complimented his wife in a black suit. Their son little Agastya also witnessed his parents' wedding. Their son wore a black suit.
"We celebrated Valentine's Day on this island of love by renewing the vows we took three years ago. We are truly blessed to have our family and friends with us to celebrate our love," Hardik Pandya wrote in an Instagram post.
In no time cricketers and their friends from the fraternity flocked to Hardik's comment section and dropped congratulatory messages to the couple.
Inside videos and images from Hardik and Natasha's wedding have surfaced online.
Guest list
Many Indian cricketers including Ishan Kishan, Athiya Shetty and KL Rahul who recently got married attended Hardik and Natasha's wedding.
Here's how Hardik and Natasha's love bloomed
Hardik and Natasha Get got engaged in 2020, Hardik Pandya announced his engagement to Natasha via Instagram. He shared a series of pictures of the proposal on the yacht in Dubai. The couple initially met each other in 2018 at a bar in Mumbai. They hit it off immediately and soon became friends. Hardik and Natasha's friendship slowly blossomed into a romantic relationship, and they began dating in 2019. Hardik Pandya and Natasha Stankovic also have a two-year-old son, Agastya.
Work front
Hardik Pandya is an Indian cricketer, and Natasha Stankovic, is a Serbian model.