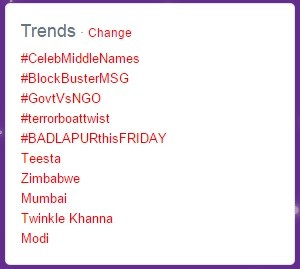 Be it socially relevant matters or gossips or politics, Twitter has now become a platform for people to socially interact with others. The micro-blogging site has also become a platform for creating memes on celebrities.
Now, certain creative minds made a new hashtag #CelebMiddleNames, which has been trending on Twitter from Thursday afternoon.
From Amitabh Bachchan to Arnab Goswami, online users have given some apt and funny middle names for almost all celebrities.
Check out the most hilarious Celeb Middle Names below:
Narendra Modi
Narendra "Auction" Modi — Saurav Joshi
Narendra "Suit Up" Modi — Deepak Bajpai
Narendra "Million Dollar Suite" Modi — :)
Amitabh Bachchan
Amitabh "Shenshah" Bachchan — Brindas pallavi
Amitabh "Harivansh Srivastav" Bachchan — Rahul
Kamaal R Khan
Kamaal "Less Than 2RS People" Khan — Bhayanak Puppy
Kamaal "Randwa" Khan — PK
Kamaal R "NOT" Khan — Tansel
Sunny Leone
Sunny "Virgin" Leone — Santhosh
Sunny "day-night" Leone — Paresh Shinde
Sunny "Oh-yes, Oh-Yes" Leone — Brindas
Sunny "Nothing to hide" Leone — Goswami
Alia Bhatt
Aalia "General Knowledge" Bhatt — Parul Bajaj
Alia "HasANice" Bhatt — Niteesh Vimal
Alia "Genius" Bhatt — Anirudh
Alia "Bakbak" Bhatt — Gupta
Sonam Kapoor
Sonam "Turtle" Kapoor — Rajesh
Sonam "Copy hollywood celeb style get famous" Kapoor — Flawedandfabulous
Suresh Raina
Suresh "Stepson Dhoni" Raina — Ronish
Suresh "Duck" Raina — Sachin
Shreya Ghoshal
Shreya "Gorgeous" Goshal — Sharath Chandra
Arvind Kejriwal
Arvind "Cough Cough" Kejriwal — HP
Arvind "Mufflerman" Kejriwal — Eshna
Arvind "U-TURN" Kejriwal — Hudook
Arnab Goswami
Arnab "This is my show, Shut up and listen to me" Goswami — Gautam Trivedi
Arnab "Don't get worked up" Goswami — Cute Idiot
Sachin Tendulkar
Sachin "God" Tendulkar — Anirudh Dubey
Sachin "Record" Tendulkar — Shet Masih
Abhishek Bachchan
Abhishek "Rai" Bachchan — Dhinshak
Abhishek "Aishwarya" Bachchan — Gautam Trivedi
Sonakshi Sinha
Sonakshi "Football Stadium" Sinha — H
Sonakshi 'Fat' Sinha — Nirav
Bill Gates
Bill "Connection Failed" Gate — Prasanna Peshkar
Rajinikanth
That's first middle and last name — Pratish PT
Omar 'Last ruler' Abdullah — Nayeem Khan
Other hilarious names include Maria "Sachin who" Sharapova, Ranveer "Rowdy" Singh, Rahul "The last of" Gandhi, Manmohan "not my fault" Singh, Mahendra "Well Of Course" Singh Dhoni and Upen "Who the **** is he" Patel.