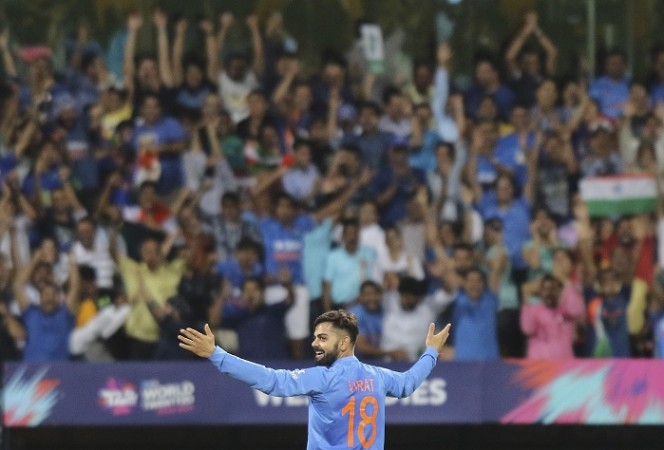 Virat Kohli added another feather to his cap as he was named "Ceat T20 Player of the Year" on Monday at the Ceat Cricket Awards 2016 in Mumbai. After the conclusion of IPL 2016, Kohli was also adjudged as the "Player of the Tournament" after scoring 973 runs in 16 games at an astounding average of 81.08.
Rohit Sharma, Ravichandran Ashwin and Ajinkya Rahane were the other Indian players to receive awards on Monday. While Rohit was adjudged as the "Indian Player of the Year," Ashwin won "International Bowler of the Year" award.
Rahane was handed a special award for becoming the fifth Indian cricketer to score a century in each inning of a Test match.
"The IPL gave me the opportunity to showcase my skills. I picked up off spin at 17 which was quite late, I feel, but it was first class cricket that enabled me to keep getting better. I strive to keep better and one day I want to bowl four maiden overs in a T20 game. I would like to take it with both hands whenever given the chance," Ashwin was quoted as saying by PTI after winning the award.
Rohit, after winning a prestigious award, stated that he wants to focus on Test cricket now. The number of Test matches that India are supposed to play in the upcoming season will help him grow more in the longest format of the international game.
"A lot of Test cricket is coming up and preparation for one format of the game will help us. The year 2015-16 has been a good year for us. As you saw we won a Test series in Sri Lanka after a long gap and we won the Test series at home against South Africa," Sharma said.
"We did well in the World T20 Championship although we lost to the West Indies (in the semis). They deserved to be champions as they played well throughout the tournament."
Former India captain Dilip Vengsarkar was bestowed with the "Lifetime Achievement Award."
England batsman Joe Root was the only player who won two awards. Root won the "International Cricketer of the Year" as well as the "International Batsman of the Year" awards on Monday.
New Zealand duo of Kane Williamson and Martin Guptill were awarded "Test Cricketer of the Year" and "ODI Cricketer of the Year" respectively.
Here is the complete list of award winners at the Ceat Cricket Awards 2016:
Lifetime Achievement Award - Dilip Vengsarkar
International Cricketer of the Year - Joe Root
International Batsman of the Year - Joe Root
International Bowler of the Year - Ravichandran Ashwin
Test Cricketer of the Year - Kane Williamson
ODI Cricketer of the Year - Martin Guptill
T20 Player of the Year - Virat Kohli
Indian Cricketer of the Year – Rohit Sharma
Special Award – Ajinkya Rahane