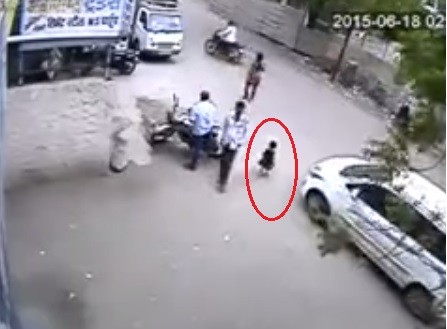 In a shocking CCTV footage that is going viral on social media, a three-year-old girl has miraculously escaped after being knocked down by a car in Nashik, Maharashtra.
Zoya M Khan, who survived with minor internal injuries, was immediately taken to the nearby Chaitanya Hospital and the girl responded to the treatment within 24 hours, IANS reported.
In the CCTV footage of Rahnuma Urdu School, little Zoya is seen crossing the road following her mother Shireen Khan, when a white car parked nearby starts moving suddenly. The driver was apparently unaware of the little girl and the multi-utility vehicle ran over Zoya, crushing her under the front and rear wheels of the car.
Zoya, who had a minor lung injury, a liver laceration and a external wound in the abdomen, was discharged after remaining under observation for two days.
The child's parents did not file a case against the MUV owners, as they offered to cover all the medical expenses.
Watch the CCTV footage below: