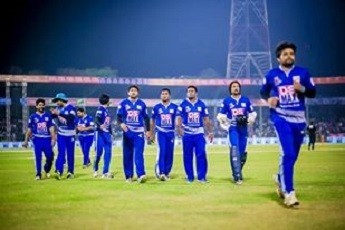 Update: Karnataka Bulldozers vs Kerala Strikers Final Match Live Streaming Information
The second semi final match of the Celebrity Cricket League Season 4(CCL 4), between Karnataka Bulldozers and Mumbai Heroes, will be played on 22 February.
Venue and Timings
Karnataka Bulldozers vs Mumbai Heroes semi final match will take place at Lal Bahadur Shastri Stadium in Hyderabad. The match will start from 7 p.m. IST and will go on till 11 p.m.
Where to watch live
The match will be covered live on Rishtey, Zee Talkies, Suvarna and Big Magic TV channels.
It will also be live streamed online HERE.
To get live updates on the match, click HERE and to get live tweets, click HERE.
The Karnataka Bulldozers has been performing exceptionally well in the past few years. The team, representing the Kannada film industry, has entered the finals in the last three seasons of CCL.
In 2013, Karnataka Bulldozers won the finals and claimed the trophy. This year too, the defending champions have done well and entered the semi finals scoring seven points in the league matches. Of the four league matched played, the team won three matches while the fourth match that they played against Chennai Rhinos was tied.
Karnataka Bulldozers are toppers in the points table having scored a net run rate of 1.805. The team will be looking forward to play well and fetch the trophy for the second time in a row.
Mumbai Heroes are in the fourth spot in the points table having won two matches and lost two. Although they have given an average performance in league matches, they are expected to give a tough fight in the semi final match against Karnataka Bulldozers.