Central Bureau of Investigation (CBI) has summoned Board of Control for Cricket in India (BCCI) chairman N Srinivasan to its office in Hyderabad to question him in connection with YSR Congress chief Jaganmohan Reddy's disproportionate assets case.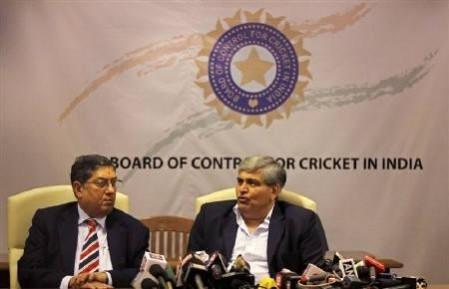 CBI has asked the BCCI chairman in his capacity as the Managing Director of India Cements Ltd., to appear before the agency next week.
The CBI claimed that India Cements Ltd. benefited from Y.S. Rajasekhara Reddy's regime in the form of water allocation, and the company invested in Jagan-promoted companies in return.
The investigating agency will grill N Srinivasan, Managing Director of India Cements Ltd., and MDs of Penna Cements and Dalmia Cements on the allegation that they got benefits in the form of enhanced water allocation and limestone mines allotments.
The CBI is also questioning Andhra Pradesh cabinet minister Ponnala Lakshmaiah over allocation of water to India Cements Ltd. and former revenue minister Dharmana Prasada Rao has been asked to explain on limestone mines allotments.
In its FIR, the CBI claimed that India Cements Ltd. invested Rs 1.35 billion Jaganmohan's firms Jagati Publications and Bharati Cements in exchange for water. Penna Cements reportedly invested Rs 680 million and Dalmia Cements invested Rs 950 million in Jaganmohan's firms in return for limestone mines allotments.
Jaganmohan Reddy was earlier produced before the special CBI court in connection with the case and is currently under judicial custody till June 11.
He has been booked under the sections 120 B (Criminal Conspiracy) read with 420, 468 (Forgery), 409 (Criminal Breach Of Trust), 477/A (Falsification of Accounts), Prevention of Corruption Act (1980) 13/1 and 13/2.
However, Jagan has claimed that he is being targeted by the ruling Congress, the Telugu Desam Party (TDP) and the CBI as by-elections are scheduled to take place in the state next month. He added that some political parties are trying to put an end to his political career.