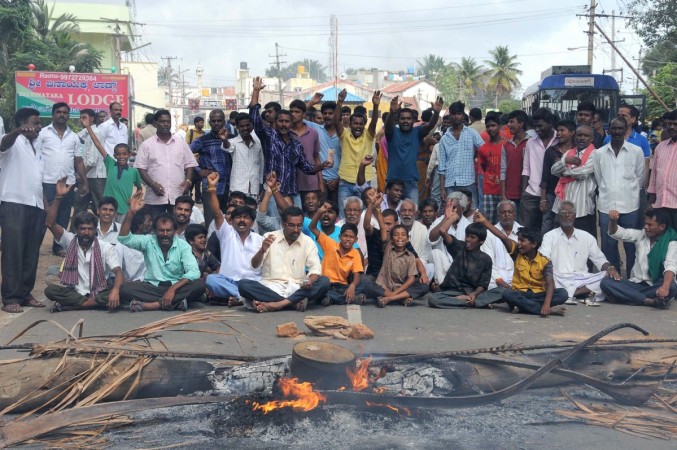 Pro-Kannada outfits have called for a Karnataka Bandh on Sept. 9 and a Mandya Bandh on Tuesday, Sept. 6, in protest against the Supreme Court's order that 15,000 cusec of water from the Cauvery river be released to Tamil Nadu for the next 10 days.
A Public Works Department office and a police station were vandalised by protesters in Mandya on Tuesday. The state government declared that schools and colleges will remain closed for two days in Mandya — the hotbed of Cauvery water dispute politics.
Cauvery Horata Samithi, a farmers' association, called for a bandh in Mandya on Tuesday. At least 2,400 policemen were deployed in the region. Meanwhile, Karnataka Chief Minister Siddaramaiah held a meeting before the all-party meeting at Vidhan Sabha.
"My appeal to people is to keep calm and not take law in their hands," ANI quoted TB Jaychandra, Karnataka Law Minister, as saying.
Also read: Cauvery water war: Actor Darshan protest in Mandya
Lawyers in Mandya also took to the streets on Tuesday to protest against the Supreme Court order. Farmers protested in Maddur and attempted to block Mysuru-Bengaluru highway.
Karnataka closed the Krishna Raja Sagara dam and Brindavan Gardens in Mandya for four days in anticipation of clashes in the area. Also, Tamil Nadu transport buses and vehicles from the neighbouring state were halted at Hosur border bus stand due to protests in parts of Karnataka. Visuals from Koyambedu bus stand in Chennai showed that Karnataka bound buses were stranded there.
Ganesh Chaturthi celebrations in the state turned sour on Monday as farmers erupted in flash protest after the ruling. Many demanded the resignation of Irrigation Minister MB Patil. The farmers' association believes Patil failed to protect their interest on both the Mahadayi and Cauvery fronts.
Also read: All you need to know about Karnataka-Tamil Nadu tussle
"We have decided to call for Mandya bandh tomorrow to protest against the court direction to release Cauvery water to Tamil Nadu when there is hardly any water left at our side of the river," Samithi President and former MP, G Made Gowda, told reporters at Mandya.
Thousands of farmers will gherao the Kabini reservoir on Sept. 7, said State Sugarcane Growers Association President Kurbur Shanthakumar. The police was deployed at the reservoir on Monday so water could be released from there for Tamil Nadu.
Also read: Bangalore-Mysore highway blocked: Mandya traffic police create FB page to suggest alternative routes
Siddaramaiah had gone in for an emergency meeting with MPs and MLAs after the Supreme Court order. He met state MLAs, including Kagodu Thimmappa, HK Patil, MB Patil and Roshan Baig, Chief Secretary Arvind Jadhav, officials from a legal team and the irrigation authorities. The senior officials discussed filing a review petition in the apex court after taking note of water in the reservoirs, availability of water and demand for drinking water. The chief minister is set to hold discussions with the MLAs and MLCs on Tuesday.
On Monday, Rapid Action Force had to be deployed at the Krishna Raja Sagar dam in Mysuru to stop protesters from entering the premises. Farmers also protested in other parts of Mysuru and Mandya, which affected traffic on the Mysuru-Bengaluru highway.
Also see: Cauvery Water Issue: Protests in Karnataka after order to release Water
Members of the pro-Kannada outfit, the Karnataka Rajya Raitha Sangha (KRRS), stepped into the Cauvery near Srirangapatna and threatened to commit suicide if the government released water. Many protesters burnt tyres near Gajalagere and Belagola. Roads were blocked in Mandya, Maddur, Uppinakere, Malavalli, Bannur and near Ijuru Circle close to Ramanagara. Protestors burnt effigies of Tamil Nadu Chief Minister J Jayalalitha and raised slogans against her.