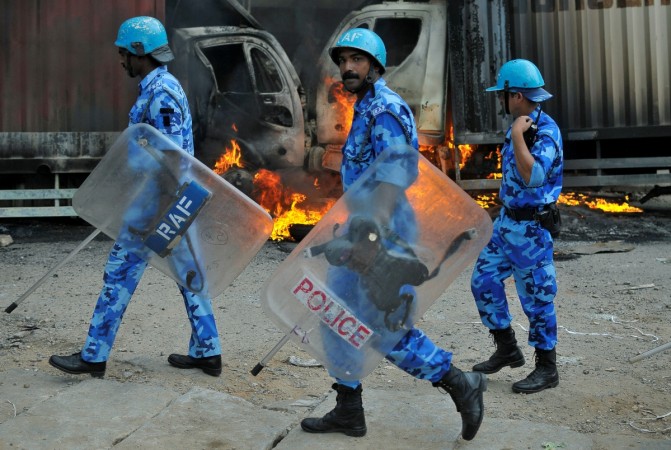 The United States issued an advisory to all its citizens on Monday asking them to stay away from areas where demonstrations and protests are taking place, including Bengaluru, which has been hit by violence following the Supreme Court verdict on the Cauvery water dispute.
The advisory requests US citizens to take care of their personal security and "remain aware of your surroundings, including local events."
"Tensions in Karnataka, including the city of Bengaluru (Bangalore), continue to run high following a Supreme Court order that Karnataka release Cauvery water to Tamil Nadu. Sections of the Bangalore-Mysore highway are closed due to protests. There have been reports of Tamil Nadu-plated trucks being stoned and burned. Section 144 of the Criminal Procedure Code, which prohibits the gatherings of ten or more people, has been imposed in Bangalore city. As a result, many businesses and companies throughout Bangalore are closed. Local law enforcement has advised that they are tracking the situation and are prepared to respond appropriately," the advisory by US Consulate General in Chennai stated.
Meanwhile, a woman journalist and her cameraman working for India Today were assaulted by goons while covering the violent protests in the city due to the Cauvery water dispute on Mysuru Road on Monday.
"My colleague, Rohini Swamy, and myself - we both were roughed up and beaten by those protesting against Supreme Court direction to release Cauvery water to Tamil Nadu," India Today cameraman Y Madhu told Press Trust of India (PTI). He added that the protesters attacked them following objection to the media coverage of the violence initiated by pro-Kannada groups.
"I was punched and later, Rohini also was punched in her stomach, and it was painful - that prompted us to rush her to a nearby hospital. As we were shooting the violent incidents near Gopalan Mall at Nagarbhavi, some protesters came up to us and threatened us to stop shooting the violence, and join them in their protests if they were Kannadigas," Madhu said.
He added that the protesters "snatched and smashed our camera and mike." However, the woman reporter was fine after she received treatment at a private hospital, Madu further added.
Bengaluru has been hit by violence since Monday after the apex court modified its Sept. 5 order and asked the state government to release 12,000 cusecs of Cauvery water every day to Tamil Nadu. The earlier order had asked the Karnataka government to release 15,000 cusecs of water to Tamil Nadu. The government had filed a plea against this order.
Two people died and one other was critically injured when police began firing at a mob who torched a police patrol jeep in west Bengaluru's Hegganahalli area on Monday evening.
The Bengaluru police also imposed Section 144 on Monday after violence in the city escalated with protesters setting fire to lorries, buses and other vehicles. Around 56 buses belonging to KPN Travels from Coimbatore were torched at Dwarakanatha Nagar near Kengeri.
#WATCH Aftermath of #CauveryProtests: Visuals from #Bengaluru's KPN bus depot, where 56 buses were set on fire y'day pic.twitter.com/GJvwy3vZtO

— ANI (@ANI_news) September 13, 2016
Several buses across the city were set on fire. Protesters tried to torch around 30 trucks at 7 p.m. on a ring road at Hegganahalli that connects the main highways around Bengaluru. Several cars and other vehicles bearing Tamil Nadu number plates were attacked across the city.
On the other hand, Kannadigas were targeted in several cities of Tamil Nadu. A Karnataka-based restaurant was attacked with petrol bombs in Chennai, while a Kannadiga bus driver was thrashed in Rameswaram for ferrying Kannadigas. Several vehicles in Ramanathapuram were also vandalised.
The Bengaluru Police have appealed for peace and urged citizens to not pay heed to rumours. Around 270 police patrol vehicles have been deployed across the city, the police said.
Meanwhile, Karnataka Home Minister G Parameshwara has also requested pro-Kannada activists and farmers associations to maintain peace saying that the Cauvery water dispute will be fought "legally". He also stated that 10 companies of the Central Reserve Police Force (CRPF) and the Rapid Action Force (RAF) have been deployed along with at least 15,000 police personnel across the city to control the violent protests.
Motorists with Karnataka registration numbers were directed to return to the state at the police check-post in Attibele of Anekal taluk.
Karnataka Chief Minister Siddaramaiah has called for peace and urged protesters to not indulge in violence. He has also written to his counterpart in Tamil Nadu, Jayalalitha, to take action against miscreants indulging in violence and ensure the safety of Kannadigas in the state.