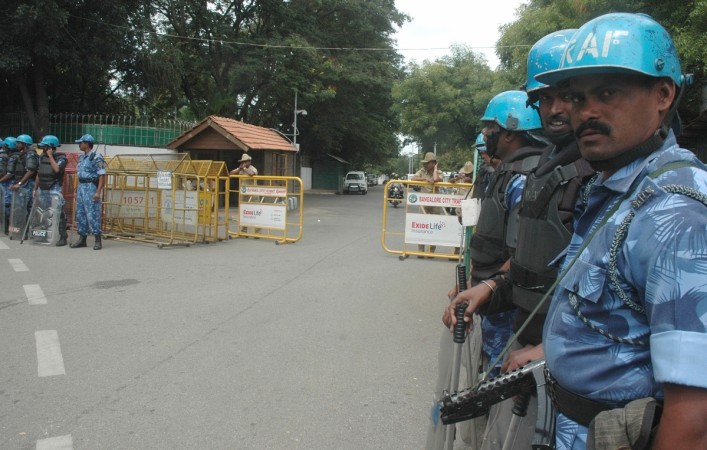 Section 144 was imposed in Bengaluru on Tuesday till September 30 after the Supreme Court order directing Karnataka to release 6,000 cusecs of water to Tamil Nadu for another three days. The law prevents four or more people from gathering together in an area.
Karnataka had defied an earlier order of the apex court by refusing to release 3,000 cusecs of water for 10 days to the neighbouring state. A special legislation session was held and all parties in the state had agreed against releasing water.
"We direct the state of Karnataka to release 6000 cusecs of water from tomorrow i.e. 28 September, 2016. We are sure that the state of Karnataka shall obey the order without any kind of impediment, obstruction or any other attitude till we take up the matter on September 30," a bench of Justices Dipak Misra and U U Lalit said.
On Wednesday, an all-party meeting was held in Karnataka to discuss further steps to take after the Supreme Court order on the Cauvery water row.
The court on Tuesday did not pull up Karnataka for defying the earlier order, but said, "We have issued this direction keeping in mind the deliberation that has taken place and, therefore, we think it appropriate that the state of Karnataka shall follow the order passed by us."
We ingeminate and repeat at the cost of repetition that the direction for release of water has been passed for the coming three days despite the resolution passed," the bench said.
Karnataka government's advocate said, "We simply cannot comply with the directions. We accede to the prayers of Tamil Nadu and we should not be heard till end of the (monsoon) season." The court then asked if the government would release water at the end of the monsoon season, to which the advocate said that it depends on rainfall.
Karnataka had sought a modification to the previous Supreme Court order saying that it would release water by the end of the monsoon season as major cities are running out of drinking water.
Section 144 CrPC in Bengaluru
September 12- Section 144 CrPC imposed around 5 pm.
September 25- Section 144 CrPC withdrawn at midnight.
September 27- Section 144 CrPC imposed after Supreme Court order directing Karnataka to release 6,000 cusecs water till Friday.
September 30- Section 144 is likely to be withdrawn around midnight on Friday if no incidence of violence and other unrest takes place.
What is Section 144 of CrPC?
Section 144 of the Criminal Procedure Code (CrPC) of 1973 empowers a magistrate to prohibit an assembly of more than five people in an area. According to sections141-149 of the Indian Penal Code (IPC), the maximum punishment for engaging in rioting is rigorous imprisonment for 3 years and/or fine. Read more...