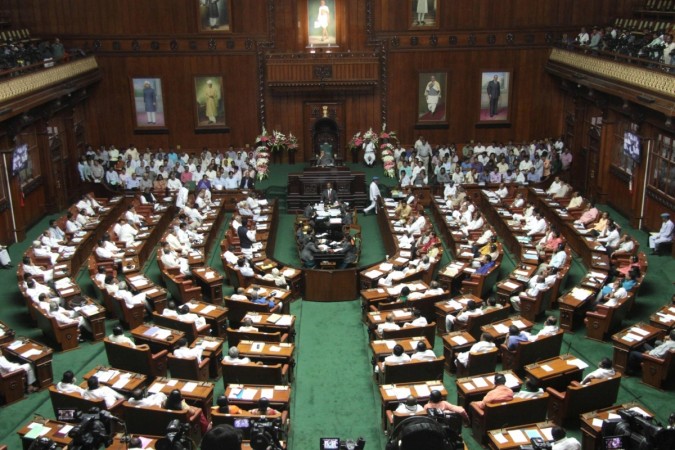 The Karnataka government has called for a special legislature session on Monday to discuss the ongoing water sharing dispute with Tamil Nadu. The state has also defied Supreme Court's orders on releasing Cauvery water to the neighbouring state.
The attorney general moved the Supreme Court on Monday challenging its September 30 order in which SC directed the Centre to constitute Cauvery Management Board.
Karnataka government will also be filing a review petition in the apex court against formation of a Cauvery Management Board, since it is against the Inter-State Water Dispute Act of 1956. The Act stipulates that any water board should first get the Parliament's nod. Also during the legislature session, a proposal to send a delegation to the president will be taken, as will be a mandate to seek the prime minister's intervention.
The apex court had directed the Centre last week to form a board for management of Cauvery water, which Karnataka argues is against the court's own order dated December 3, 2013 to stave off forming any boards until the civil appeal was decided. To show their opposition to the formation of the board, the state will not be electing any members to it.
Karnataka also said that notices to Kerala and Puducherry, who are party to Cauvery water sharing, haven't been issued with regards to forming the board.
Chief Minister Siddaramaiah said that Karnataka is not wilfully disobeying the Supreme Court because the government is bound by the resolution of the legislature.
The legislature had unanimously passed a resolution on September 3 to not release water and instead reserve it for drinking water needs of Karnataka. The BJP and the JD(S) are in support of the Congress-led government's resolution.
The legislature session on Monday will discuss about releasing Cauvery water to Tamil Nadu and for water to irrigation canals for standing crops in the Cauvery basin. The state had also declared 68 taluks as drought-affected last week, including the Cauvery source.